Mark Esper Under Fire for Keeping 'Essential' Trump Information Secret
Former Defense Secretary Mark Esper has come under fire for not previously sharing claims about former President Donald Trump detailed in his new book, A Sacred Oath: Memoirs of a Defense Secretary in Extraordinary Times.
The memoir will not be officially released until Tuesday, but several of the book's details have been made public ahead of time. For example, Esper alleges in the book that Trump asked about shooting Black Lives Matter protesters during the summer of 2020, as well as mulled the possibility of launching missiles into Mexico to target drug cartels.
Trump fired Esper in 2020, days after news outlets projected that then-candidate Joe Biden would win the contentious presidential race. The allegations in his book, set to be released more than a year after Esper's ousting, offer more insight into the Trump administration's behind-the-scenes dealings and discussions, information some are now saying should have been released sooner.
"He decided to hold this essential info til his book dropped. The media did not ask him about that part," Soledad O'Brien, a broadcast journalist and author, tweeted Monday.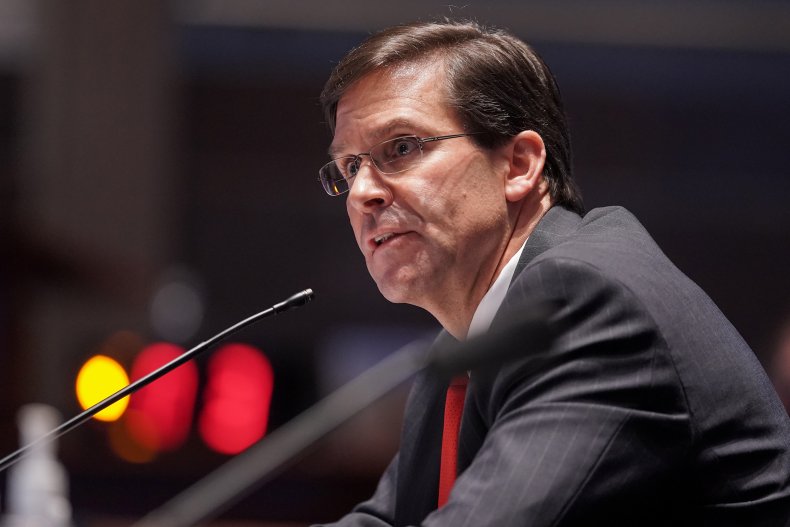 The allegations regarding Trump's question about shooting protesters first emerged last week, but Esper's interview with 60 Minutes that aired Sunday has added to the debate.
"Your reminder that Mark Esper should have told everything he knew to Congress and the American people a lot goddamned sooner than this," writer Tom Nichols tweeted on May 5.
Nichols was responding to another tweet detailing one of Esper's allegations that former White House adviser Stephen Miller suggested in October of 2019 that the head of slain Islamic State leader Abu Bakr al-Baghdadi be dipped in pig's blood and paraded around as a warning to terrorists. Miller has denied the allegation.
Sherrilyn Ifill, a lawyer who was reportedly under consideration when Biden was weighing Supreme Court nominee options to replace retiring Justice Stephen Breyer, also weighed in on the timing of Esper's claims Monday.
"This was 2 years ago. Trump was running for a new term that very year. Don't you think Secy @MarkTEsper that your 'sacred oath' required you to inform the American people of Trump's unfitness before they decided whether to give him another term in office?" she tweeted.
Trump has responded to several of Esper's allegations and called him "weak and totally ineffective" during his time as defense secretary.
In a statement Sunday evening, Trump denied the claims regarding his question about shooting the Black Lives Matter demonstrators, using foul language and calling his Cabinet "f****** losers" while discussing sending 10,000 active-duty troops to Washington, D.C., to help end the unrest.
He also said that he had "no comment" about the claim regarding his openness to firing missiles into Mexico.
Newsweek reached out to Esper for comment.