Mark Hamill was not impressed with last night's presidential debate. The Star Wars actor took to Twitter in the wee hours of the morning on Wednesday to express his disdain for the discourse between President Donald Trump and former Vice President Joe Biden.
"That debate was the worst thing I've ever seen & I was in The Star Wars Holiday Special," Hamill tweeted, recalling the disastrous holiday special from 1978. It has a solid 2.1 rating on IMDb and has never been re-aired on television since its CBS premiere.
Hamill even jokingly asked Trump to pardon it this past February. However, George Lucas maintains that the holiday special does belong in the Star Wars timeline, situated between episodes IV and V.
Some Twitter users compared the Star Wars Holiday Special to other less favorable aspects of the franchise.
"But was it worse than Jar Jar Binks? That's the test," one user posited. "It was quite entertaining, at least it was over after 1.5hrs not like some Star Wars films of late!!" another chimed in.
"Fact Check: False," a third said. "The Last Jedi was the worst thing we've ever seen."
One user likened the Empire to Trump's campaign. "But 'bad' #StarWars is still Star Wars," they wrote. "And the Empire always loses. You do know Trump used the Death Star as an image for his campaign. Never ends well."
"For the next one, could you ask Chewie to stand on stage a roar at Trump every time he starts the verbal diarrhea?" one user suggested, referring to everyone's favorite Wookiee. "Legend has it that things went poorly that night when someone kept interrupting the wookiees," another said.
"Still better than the sequel trilogy," someone else quipped.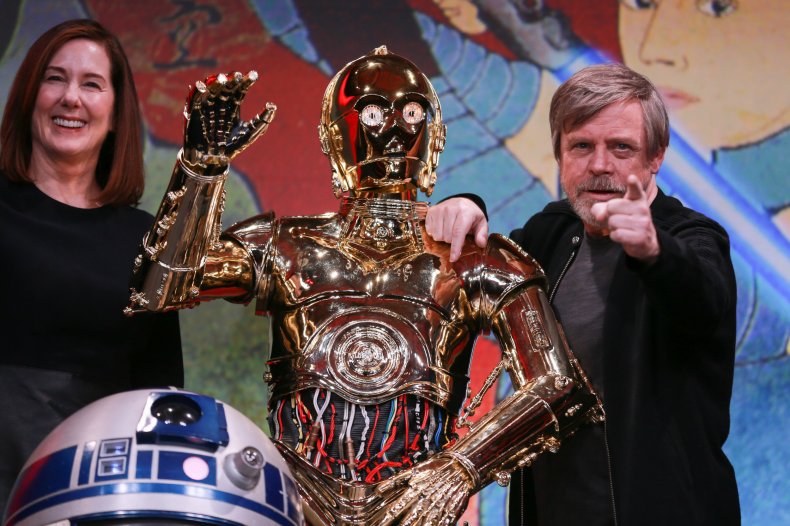 Hamill is an outspoken Democrat and critic of Trump, using his Twitter feed to blast the president and his administration.
He has supported Biden and Senator Kamala Harris throughout their campaign. "We must ALL VOTE in numbers so big, they can't challenge the outcome," he tweeted on Sunday. "#BidenHarrisLandslide2020"
He endorsed Biden in May, after Trump's comments about drinking bleach to cure the coronavirus shocked many.
Additionally, Hamill headlined a virtual fundraiser for Biden this past June, as per Deadline.
The next presidential debates will take place on October 15 and 22. The vice presidential debates will take place on October 7.