Congressional Candidate Mark Harris Sets Off Fire Alarm While Avoiding Reporters' Questions About Possible Election Fraud in North Carolina
Mark Harris, the North Carolina Republican congressional candidate whose campaign is currently under investigation, ran from reporters Monday evening and set off a fire alarm in the process, all to avoid answering questions about the alleged election fraud.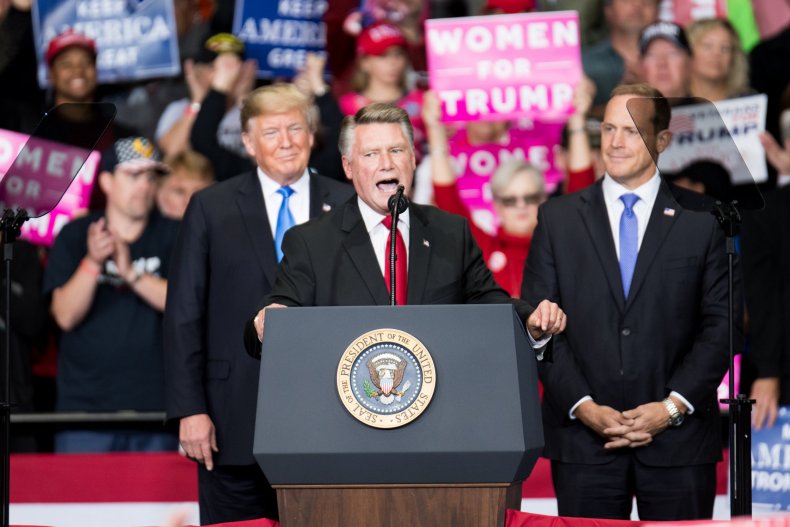 Harris had just finished his Monday meeting with Mecklenburg County Republicans at the Charlotte Mecklenburg Government Center when a number of local reporters tried to speak with him. His reaction was to flee the scene. He ran down an emergency set of stairs as reporters pursued him, and eventually set off an emergency alarm before running across the outdoor parking lot and into a car that whisked him away.
"To avoid the media, Mark Harris ran down a fire exit staircase. A man tried to prevent us from following but we still did. The alarm went off as he ran out. When media caught up he sprinted across the street to the First Baptist Church of Charlotte's parking lot," wrote Joe Bruno, a reporter for WSOC-TV in Charlotte, North Carolina.
Harris later brushed off his escape, saying that he had to make it home in time to watch a football game. "Hey man, Sorry I missed you guys tonight. I had to get to the kickoff of the #NationalChampionship game," he tweeted in response to Bruno. "We'll have plenty to talk about in the days ahead. #GoTigers"
Democratic operatives immediately pointed out the falsehood of his tweet. "Instead of answering urgent questions about the ongoing investigation into his campaign, he literally ran away into the night. Mark Harris owes the people of the 9th District real answers—immediately," said Democratic PAC American Bridge spokesperson Andrew Bates in a statement.
As members of Congress settle into their 116th session, the seat for North Carolina's 9th District remains unoccupied. Allegations of election fraud began when Mark Harris won the district race by fewer than 1,000 votes over Democratic challenger Dan McCready. A close operative of Harris's, Leslie McCrae Dowless, was accused of tampering with the election results by illegally collecting absentee ballots and possibly manipulating them, a process called ballot harvesting.
The Associated Press revoked its call of a Harris win and North Carolina officials opened an investigation into the election. Harris has sued the state, demanding that the executive director of the elections board certify his win and allow him to sit in Congress. Meanwhile, House Democrats are pushing for another election, which Harris and Republicans are challenging.
But a resolution may take some time: three North Carolina judges disbanded the state's nine-member State Board of Elections and Ethics Enforcement last month, and a new board is not expected to be named by the end of January. Harris told the Charlotte Observer this week this was a good sign for him. "I think the prospect of a new election dropped significantly with the dissolution of the board," he said.
Even without an official board, staff members have kept up the investigation into alleged fraud.