Mark Kirk Now Accused of Exaggerating His Teaching Record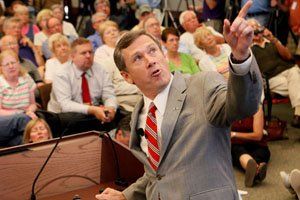 Mark Kirk, the Republican contender for Barack Obama's former Illinois senate seat, had previously misrepresented his military service in the course of campaigning. Now his oft-recalled time as a teacher is being questioned too.
Among other fond reminiscences came a speech on the House floor in 2006 in which, reports the New York Times, Kirk discussed school safety. He remembered "the kids who were the brightest lights of our country's future, and I also remember those who bore scrutiny as people who might bring a gun to class."
The Times, digging into his record, discovered that that Kirk taught part-time in a nursery school in Ithaca, New York, as part of a work-study program while at Cornell University, and later, briefly, at an English private school in one of the most expensive neighbourhoods in London. Both seem unlikely venues for gun crime.
Kirk declined to talk to the paper. But his spokesperson told reporter Jeff Zeleny that "the congressman was referring to nursery school students in Ithaca, not his students in London, during that speech on the House floor in 2006."
Running for an essential seat—one the Republicans must take if they are to have any hope of winning back control of the Senate—Kirk may find exaggerating his record more dangerous even than facing down pistol-wielding toddlers.