Mark Lanegan Tributes Flood in After Screaming Trees Singer's Death at 57
Tributes are pouring in for Mark Lanegan, the singer known for his work with the bands Screaming Trees and Queens of the Stone Age, who has died aged 57.
Lanegan died at his home in Killarney, Ireland, a message on the songwriter's official Twitter account said on Tuesday as it announced his death.
"A beloved singer, songwriter, author and musician he was 57 and is survived by his wife Shelley," it said. "The family asks everyone to respect their privacy at this time."
No further details were immediately released.
It was previously reported that Lanegan was put into a medically-induced coma, after contracting COVID-19 last year. His memoir, Devil in a Coma, was published in December and recounted the near-death experience.
Iggy Pop, John Cale, Duff McKagan and Moby were among those paying tribute to the Washington-born singer, who was a key part of the Seattle grunge scene in the 1980s and 1990s that produced other bands such as Nirvana and Soundgarden.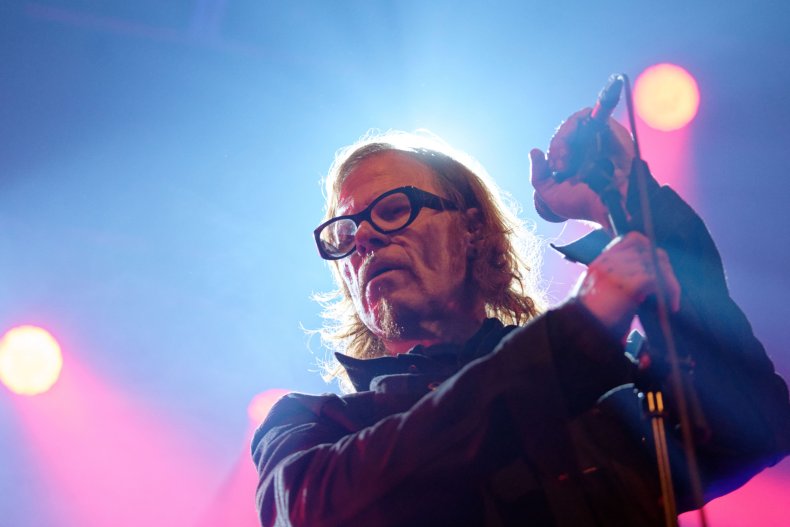 John Cale of The Velvet Underground said of Lanegan's death: "I can't process this.
"Mark Lanegan will always be etched in my heart—as he surely touched so many with his genuine self, no matter the cost, true to the end. xx jc," he tweeted.
Peter Hook, of Joy Division and New Order fame, called Lanegan "was a lovely man."
"He led a wild life that some of us could only dream of. He leaves us with fantastic words and music!" the bassist tweeted. "Thank god that through all of that he will live forever. RIP Mark. Sleep well. Love Hooky."
"Your fan" is how Iggy Pop signed off his tribute which read: "Mark Lanegan, RIP, deepest respect for you."
The band Garbage tweeted: "Terribly saddened to hear the news of the passing of Mark Lanegan. A very gifted artist blessed with honey dipped tones, gone far too soon."
Canadian singer-songwriter Ron Sexsmith said: "RIP Mark Lanegan. I was honored to contribute a lyric and vocal on Rob Marshall's 'Humanist' album alongside Mark and other notable artists...Huge Loss RS."
Duff McKagan of Guns N' Roses, shared a tribute on Instagram, writing: "He was such a good man, and friend to my family. RIP Mark Lanegan."
"Rest In Peace, old friend. Truly. More and more the best are no longer with us.
@marklanegan," tweeted Moby.
Tim Burgess of The Charlatans wrote: "Oh no. Terrible news that Mark Lanegan has left us. Safe travels man—you'll be missed."
While musician Mark Morton tweeted: "I am so profoundly grateful to have had the chance to make music & become friends with Mark Lanegan. Few artists ever achieve the level of honesty & authenticity that he did.
"He was absolutely brilliant. Godspeed my friend."