Fox News Host Mark Levin Blasts Schumer, Clinton for Border Wall Voting Record, Support of 2006 Secure Fence Act
Fox News host Mark Levin railed against "pathological liar" Democratic party leaders, including Senators Nancy Pelosi and Chuck Schumer and former Senator Hillary Clinton, for "flip-flopping" on past support of a southern border wall just to spite President Donald Trump in 2019. But did they?
Levin joined Sean Hannity Tuesday evening after Trump's Oval Office address to criticize what they saw as the Democratic Party's seeming about-face regarding support of the border wall and border security. Pelosi and Schumer responded to the president's address by accusing Trump of using a "manufactured crisis" to force U.S. taxpayers to foot the $5 billion bill for the Mexican border wall. Levin, Hannity and Trump's now-acting Chief of Staff Mick Mulvaney have long focused particularly on Democrats' support of the Secure Fence Act of 2006, signed into law by Republican President George W. Bush after passing the Congress with strong bipartisan support.
Then-Democratic Senators Clinton, Schumer, Obama and Biden all supported the less ambitious border proposal in an attempt to "stem some of the tide of illegal immigration" and as a precursor to a potential comprehensive immigration reform bill.
"Let's keep a few things in mind when you watch Schumer and Pelosi, they are pathological liars," Levin told Hannity Tuesday evening after Trump's Oval Office remarks. "They have been in Congress over half a century. What the hell have they done about the border? Nothing. They are part of the scam artists. They get amnesty, legalization, citizenship and never secure the border."
"These two and the rest of them are never forced to explain their flip-flop," Levin continued, honing in on an oft-repeated Democratic border security "hypocrisy" touted by Trump, Mulvaney and Hannity for years. He pointed to Pelosi, Schumer and Hillary Clinton's past support of southern border barriers and accused them of suddenly making the wall an issue of morality.
The argument hinges on Democratic support of the Secure Fence Act of 2006, which was signed into law by President George W. Bush and authorized 700 miles of fencing along the southern border outside predominately urban areas. The legislation was seen as a potential first step toward passing comprehensive immigration reform. It authorized more checkpoints, advanced technology and unmanned aerial vehicles to help prevent illegal immigration.
Schumer and then-New York Senator Clinton both voted in favor of the legislation introduced on September 13, 2006, by Republican congressman Peter T. King of New York. The Fence Act passed 283-138 in the House and 80-19 in the Senate. Pelosi, however, voted nay on both the Secure Fence Act and the Border Security Bill, but voted in favor of authorizing the Homeland Security Department in May 2005.
Trump himself ridiculed the much smaller border project in an August 2016 interview with Hannity, in which the then-GOP presidential nominee Trump blamed "environmental" issues for preventing the "little wall, such a nothing wall" funded by the 2006 Secure Fence Act. But never one to shy away from his own ideological nuance, Trump derided Clinton during an October 2016 presidential campaign debate with her for having "fought for the wall in 2006."
Trump's do-or-die ultimatum amid the government shutdown regarding the border wall follows the narrative Mulvaney has been touting for years.
"We still don't understand why the Democrats are so wholeheartedly against [the border wall]. They voted for it in 2006," Trump's now-acting White House Chief of Staff Mulvaney said in an April 2017 Fox News interview. "Then-Senator Obama voted for it. Senator Schumer voted for it. Senator Clinton voted for it. So we don't understand why Democrats are now playing politics just because Donald Trump is in office."
Levin claimed the Democratic Party platform in 2008 supports "virtually everything the Republican president of the United States said today. The American people haven't changed, the Republican Party hasn't changed. The Democrats, for political reasons and power reasons, they've changed because they want to drag us all off the cliff with them."
"Notice Pelosi and Schumer didn't talk about the 'American worker,' notice they didn't talk about the communities on the border that are suffering. Notice they never talked about law and order because they hate law enforcement. They never talk about the overwhelming costs involved in health care, the overwhelming costs that are involved in our public schools," he continued.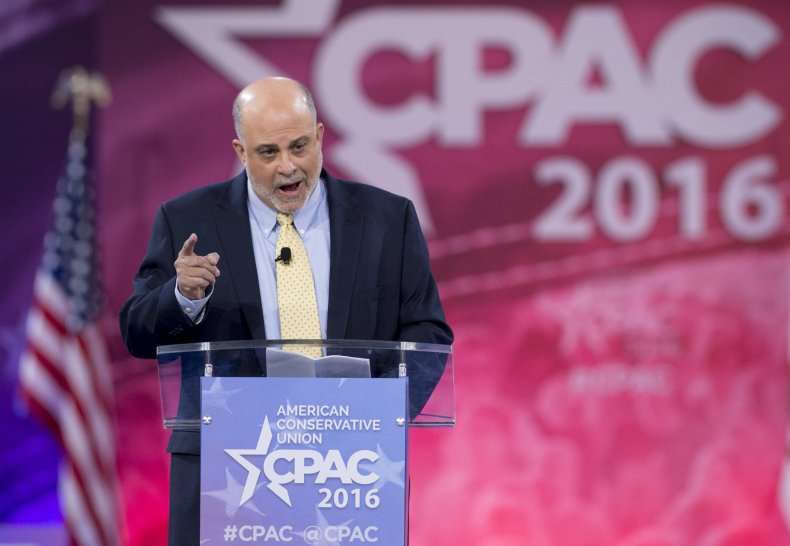 Levin said U.S. corporations including Disney, Hewlett Packard and Boeing are all part of the "scam" of bringing illegal aliens into the country. Levin criticized the "Democrat Party before country" mentality and—tapping into Old Testament tales —claimed it is part of a liberal plan to embrace the Latino vote and keep the GOP doomed to "wandering in the desert" for 40 years.
"They fooled Reagan. They fooled Bush 41. They fooled Bush 43. But they are not going to fool Donald Trump who has dealt with tougher than Pelosi and Schumer."