Mark Meadows–Sent Memo Detailed Plan for Pence to Undo Biden's Election Win: Book
Former Vice President Mike Pence reportedly received a memo from ex-White House Chief of Staff Mark Meadows detailing a multi-step plan to overturn the 2020 election result and ensure a second presidential term for Donald Trump.
The private memo, written by Trump campaign lawyer Jenna Ellis, was obtained by ABC News and reported for the first time in the upcoming book Betrayal: The Final Act of the Trump Show by Jonathan Karl, the network's chief Washington correspondent.
According to the book, Pence received the memo that said he was expected to send back the electoral votes from six battleground states on January 6, the day Congress certified the election results. Trump claimed that he won those six states.
Meadows reportedly sent Pence the memo on New Year's Eve of 2020.
According to the memo, Pence was expected to set a January 15 deadline for legislatures in the six states to send back a new set of votes. "No electoral votes can be opened and counted," Eliis wrote, from a state that missed that deadline.
Trump and his rival Joe Biden wouldn't have had the majority of votes had that plan passed, which means "Congress shall vote by state delegation," Ellis stated in the memo.
Consequently, Trump would have been named the winner because Republicans controlled 26 state delegations as opposed to Democrats who only held 23.
Another memo was sent to Pence from Trump aide John McEntee on January 1. The memo, titled "Jefferson used his position as VP to win," was meant to pressure Pence to exercise his role as vice president to overturn the election results.
Pence had long been under pressure to deny Biden's victory. But he defended his decision to certify the election and insisted that he was honoring his oath to protect the Constitution.
"It is my considered judgment that my oath to support and defend the Constitution constrains me from claiming unilateral authority to determine which electoral votes should be counted and which should not," he said earlier on January 6.
On January 6, Trump urged Pence to take action.
"So I hope Mike has the courage to do what he has to do," the then-president said during his "Stop the Steal" rally at the Ellipse near the White House prior to the Capitol attack.
"If Mike Pence does the right thing, we win the election," Trump said at the time. "Mike Pence is going to have to come through for us, and if he doesn't, that will be a sad day for our country."
Later during the Capitol attack, Trump supporters were captured on video chanting "hang Mike Pence."
When asked about the chants against Pence, Trump told Karl in an interview that "the people were very angry."
"Because it's common sense, Jon," the former president said. "It's common sense that you're supposed to protect. How can you—if you know a vote is fraudulent, right—how can you pass on a fraudulent vote to Congress?"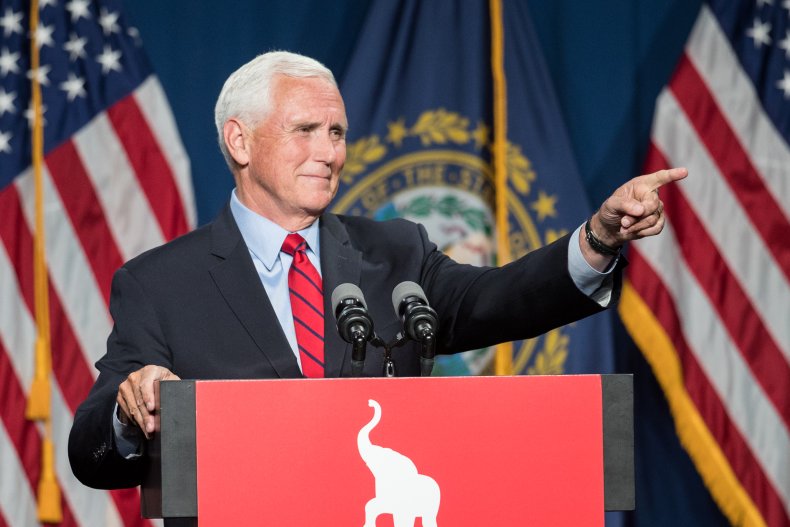 Trump blasted Pence for certifying what he claims was a "fraudulent" election, which he has constantly repeated since his presidential election loss.
"How can you pass a vote that you know is fraudulent? Now, when I spoke to him, I really talked about all of the fraudulent things that happened during the election. I didn't talk about the main point, which is the legislatures did not approve—five states," Trump said.
The former president believed that he would have still been in the White House if Pence did what he was asked to do.
"I think we would have won," Trump told Karl.
Newsweek contacted Pence's office for comments.