Mark Meadows, Who was with Infected Trump, Refuses to Wear Mask While Speaking With Reporters
White House chief of staff Mark Meadows on Monday refused to don a face mask to speak with Capitol Hill reporters outside the room of where the confirmation hearing for Supreme Court nominee Amy Coney Barrett took place, after a reporter insisted that he keep his mask on while talking.
Meadows is not infected with the virus, but he was repeatedly with President Donald Trump at the White House throughout his recent infection and the massive White House outbreak that infected countless officials. Despite the dozens of recent positive cases at his place of work, Meadows continued to embody the same sort of lax social distancing discipline that he and other Republicans have displayed during the pandemic.
"Let me do this: let me pull this away," Meadows said as he moved back a mic stand that was in front of a pool camera located in a hallway. "And then that way, I can take this off to talk," Meadows continued as he began removing his mask.
After pushback from CNN producer Kirstin Wilson and an insistence that he keep the mask on, Meadows grew irritated and walked away, saying he would be "glad" to answer questions—but only if he could remove his face covering.
"Well, I'm more than 10 feet away," Meadows responded. "I'm not going to talk through a mask."
Reporters on Capitol Hill are required to don a face mask at all times, especially when interacting with lawmakers. When asked, nearly all members of Congress agree to keep their masks on while doing press interviews, even if it's on camera. Sen. John Kennedy (R-La.) did not wear a mask when speaking to reporters. It's unclear whether he was asked to do so.
Meadows and other White House officials regularly refuse to wear a mask around White House reporters because they say they are tested daily. But since Trump's infection, questions have been raised about the claims that he and his officials are tested on a daily basis.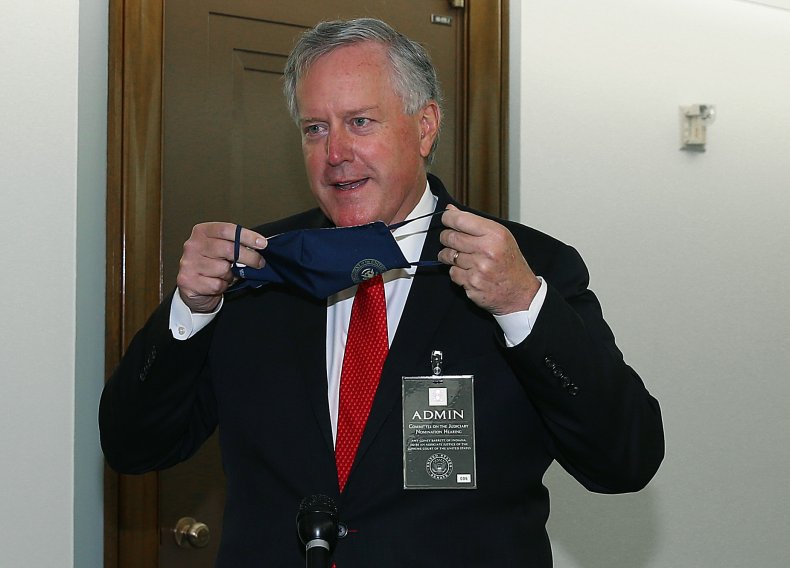 Monday's hearing featured several Republicans and at least one Democrat who displayed inconsistent mask usage. Sen. Mike Lee (R-Utah) attended in-person, despite contracting coronavirus just 10 days ago, and wore a mask for most of the event. He was cleared by the U.S. Capitol physician to forgo the virtual option and participate in-person.
Sen. Thom Tillis (R-N.C.), who also contracted coronavirus, attended virtually and Sen. Ted Cruz (R-Texas) did as well, as he finishes his quarantine period after coming into prior contact with Lee. The infections are believed to have originated from a White House super-spreader event on Sept. 26 for Barrett that featured no social distancing and few people wearing face coverings.
Sen. Lindsey Graham (R-S.C.), chairman of the Senate Judiciary Committee that is handling the confirmation hearing, has rebuffed members' demand that he establish a daily testing regimen for the proceedings, despite Lee and Tillis having already tested positive for the disease.
"All I can say is, I don't know what it's like at CNN, but you can't demand that all of your colleagues be tested before you go to work, if there's no reason," Graham told reporters. "I was tested a week ago Friday. I was negative. I feel fine. The CDC guidelines do not require quarantine or testing, in my case, and I'll leave it up to every member."
Graham argued that Congress should continue to operate like how the rest of the country does on a daily basis without regular testing. House Speaker Nancy Pelosi (D-Calif.) and Senate Majority Leader Mitch McConnell (R-Ky.) continue to refuse their members' demands that a regular testing system be implemented for lawmakers, staffers and reporters working out of the nation's Capitol building.
"There are millions of Americans going to work today, in restaurants, police officers—you name it—who can't demand they won't come to work unless everybody around them is tested, whether they need to, or not," Graham continued. "So, we're running this hearing safely. It has been set up CDC compliant. And we will move forward."