The nation's top general, General Mark Milley, is reversing course on the military's sexual assault policy, as cases persist despite efforts to solve the problem.
Milley, the chairman of the Joint Chiefs of Staff and senior military adviser to Defense Secretary Lloyd Austin, told the Associated Press and CNN on Sunday that he would drop his opposition to a proposal to take decisions on sexual assault prosecution out of the hands of commanders.
"We've been at it for years, and we haven't effectively moved the needle," Milley said. "We have to. We must."
Late last month, a Pentagon review panel submitted recommendations to Austin, stating that commanders should be removed from deciding cases related to sexual assault, sexual harassment and, potentially, hate crimes. The panel suggested that independent judge advocates should take over and report to a civilian-led office of the chief special victim prosecutor instead—a move that has been opposed by Pentagon officials.
Milley said he had been "adamantly opposed" to the idea for years but noted that he hasn't "seen the needle move" on the number of reported sexual assault cases.
In a statement sent to Newsweek, Colonel Dave Butler, Special Assistant for Public Affairs to the Chairman of the Joint Chiefs of Staff, said that Milley's recent remarks were not necessarily an endorsement of any specific change but rather recognition of the sexual assault problem that the military faces.
"While the Chairman has not endorsed any specific course of action today, he recognizes we need to be open minded about solutions to the blight of sexual assault in the military," Butler wrote.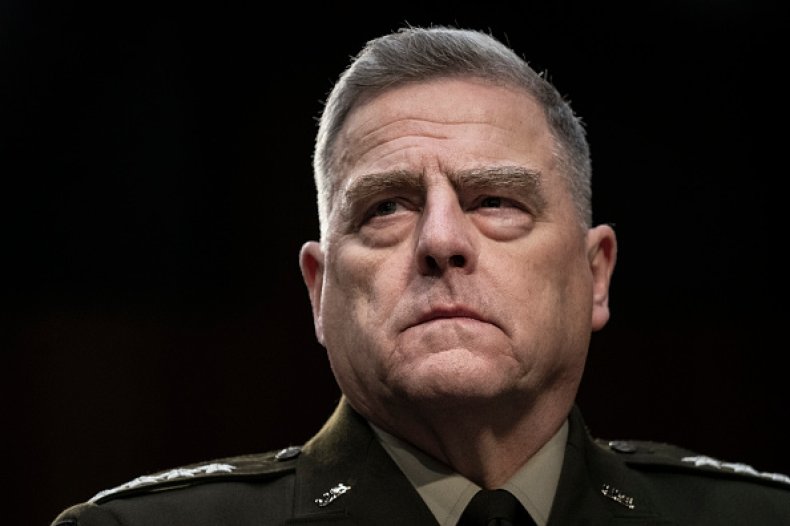 Back in July 2019, Milley had insisted at his confirmation hearing that "commanders must retain the ability to hold all service members in their formation accountable for their actions."
"The authority to discipline service members, to include convening courts-martial, is an important tool that enables commanders to fulfill their responsibility to their people and to establish an appropriate culture where victims are treated with dignity and respect," the top general wrote.
But the general is changing his mind now that it appears junior service members are unsure about the military's ability to handle sexual assault cases.
"That's really bad for our military if that's true, and surveys and the evidence indicate it is true," he said. "That's a really bad situation if the enlisted force—the junior enlisted force—lacks confidence in their chain of command to be able to effectively deal with the issue of sexual assault."
The change to military law would require an act of Congress. A bill, championed by Democratic Senator Kirsten Gillibrand, that would make this major change recently gained support from Republican Senator Joni Ernst, the only female combat veteran among Senate Republicans.
"I have been torn," Ernst told The New York Times last week. "On the one hand, I was a commander in the National Guard and know how important that role is. But also, as a sexual assault survivor I know we have to do more. I never really wanted to take this out of chain of command, but we are not seeing a difference."
Sexual assault has long been a problem for the military as leaders struggle to find a method to both prevent and prosecute such cases. According to Pentagon data, formal reports of sexual assault have steadily increased since 2006, including a 13-percent hike in 2018 and a 3-percent rise in 2019.
Updated 05/03/21 4:53 p.m. ET: This story has been updated to include comments from Butler, and the headline has been updated to better reflect the amount of sexual assault cases within the military.