Russian Senators Seek Facebook User Privacy Meeting With Zuckerberg Despite His 'Russophobic' Comments
Several Russian lawmakers called upon Facebook CEO Mark Zuckerberg to give testimony over privacy and media regulation concerns.
Zuckerberg gave testimony before U.S. Congress last month and appeared before European Parliament leaders last week to respond to questions about Russian interference in the U.S. election as well as customer privacy. The founder of the world's largest social media network has been the target of criticism from Russian senators who have accused him of making "Russophobic" statements about alleged "troll factories" meddling in international affairs. Russian Federal leaders continued to demand that the company comply with local laws that would put Russian users' private data on their own domestic servers.
During a Federation Council meeting Wednesday, Speaker Valentina Matvienko led several Russian politicians in calling for Zuckerberg to provide expert testimony about social media privacy in the wake of the Cambridge Analytica exploitation of 87 million U.S. and European users' data. Several lawmakers referenced Zuckerberg's recent U.S. testimony in which he reiterated that one of his "greatest regrets" was being unable to stop Russian propaganda from spreading during the 2016 U.S. presidential election. Senator Anton Belyakov also requested Zuckerberg's presence to offer his views on how the independent republics under the Russian Federation can "digitize their economy," the Moscow Times first reported.
"[Zuckerberg] spoke about information security, not giving access to personal data, preventing the dissemination of harmful content," Belyakov said at the Wednesday meeting, the Moscow Times reported.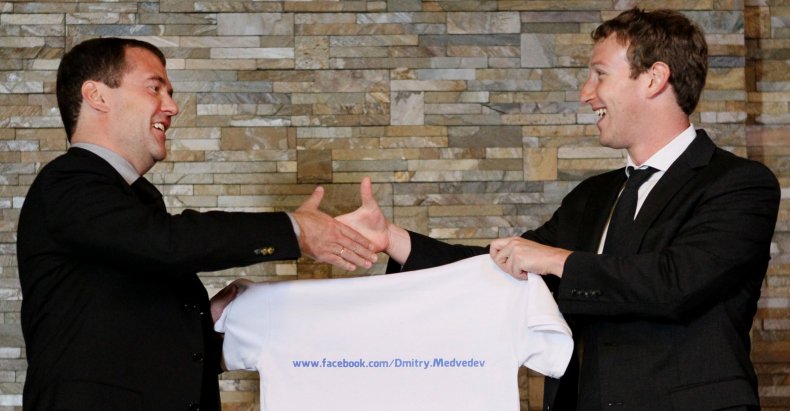 "I'll issue an order. We'll try to organize his arrival," Speaker Matvienko said in response to his request. Matvienko dismissed a Crimean senator's comment that Zuckerberg should not be invited to speak because of his past "Russophobic" comments.
"We have to meet with Russophobes too," she said Wednesday. "Why shouldn't the Federation Council enter into dialogue and ask him about his Russophobic statements? … We have something to say, we have something to respond with."
Members of Russia's internet safety agency and regulator, Roskomnadzor, continued to put pressure on Facebook to comply with a 2015 law that Russian users' personal data should be stored on local servers. Roskomnadzor head Alexander Zharov threatened to ban Facebook from the country -- as they did to LinkedIn in 2016 -- should they not comply with the Russian law.
"We will either ensure that the law is implemented, or the company will cease to work in Russia," Zharov told the Interfax news agency in 2017. The Moscow-based Rambler News Service estimated that Facebook receives 14.4 million monthly and six million daily visits from Russians. Zharov added that there would be "no exceptions" to the 2015 law to put the private user data on local servers. He said Twitter agreed to transfer its Russian users' data to Russian servers by mid-2018.
In 2012, Zuckerberg met with tech-loving Russian Prime Minister Dmitry Medvedev in Moscow. However, he did not meet with Vladimir Putin, who claimed not to use the internet at the time.