Mark Zuckerberg's Back at Work, and He Needs New Clothes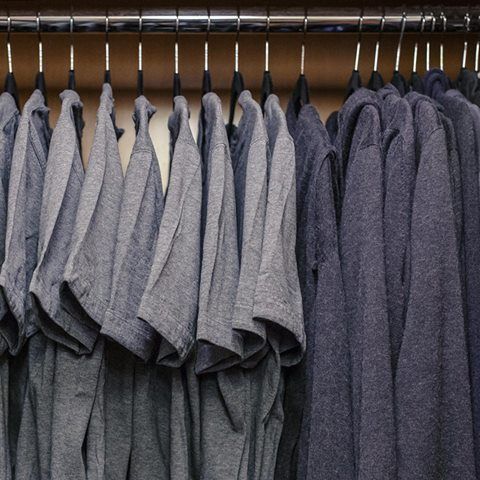 Facebook founder Mark Zuckerberg's widely celebrated two-month paternity leave came to an end on Monday, as he announced to the world with a groan-inducing dad joke.
Zuckerberg shared a photo of his wardrobe with the caption "first day back after paternity leave. What should I wear?" and an "undecided" emoji. Much like Steve Jobs with his black turtleneck and stonewashed jeans, Zuckerberg is sticking to his trademark gray T-shirt and dark gray sweatshirt.
Zuckerberg has explained that he keeps his wardrobe simple to "make as few decisions as possible about anything except how to best serve the community." That's a nice thought, but even President Barack Obama finds the time to put on a nice suit.
Zuckerberg made big splashes in the news during his paternity leave, especially when he announced that he and his wife, Priscilla Chan, were going to donate 99 percent of their Facebook stock over their lifetime. That pledge, however, comes with numerous caveats, mainly that the Chan Zuckerberg Initiative is set up as a limited liability company and not a traditional charity foundation.
Now back at work, Zuckerberg has a lot of things on his plate. The two most important parts of his agenda right now are Facebook's upcoming earnings report on Wednesday and convincing India to accept his initiative of providing free Internet to the country.