Markelle Fultz Jump Shot Video Surfaces After Sixers Guard's Offseason Working on 'Yips' Issue
After an offseason of rumors and speculation, Sixers fans—and NBA observers at large—got a first look at Markelle Fultz's reworked jump shot on Thursday.
The Players' Tribune published a clip from a longer video to Twitter that showed the No. 1 overall pick from last year putting up shots. Fultz, of course, had a very public issue with his shooting form that resulted in a severe hitch whenever he went to shoot.
The reworked shot looks better but it's tough to judge from practice footage alone.
Fultz has been working with trainer Drew Hanlen to fix his jumper. During the offseason, Hanlen made headlines when he said on a podcast that Fultz was fighting the yips—where an athlete seemingly forgets how to do a simple task. (Newsweek took an in-depth look at Fultz and the yips here.)
"With Markelle, obviously he has one of the most documented cases of the kind of the yips of basketball in recent years, where he completely forgot how to shoot and had multiple hitches in his shot," Hanlen said on the Talking Schmidt Podcast. "So for me it was, Hey listen, how can I get this kid that was No. 1 in last year's draft back rolling and get him to the point where he was before, if not better? We've been working hard every day, working on rewiring his body and getting a kind of smooth stroke back into his shot."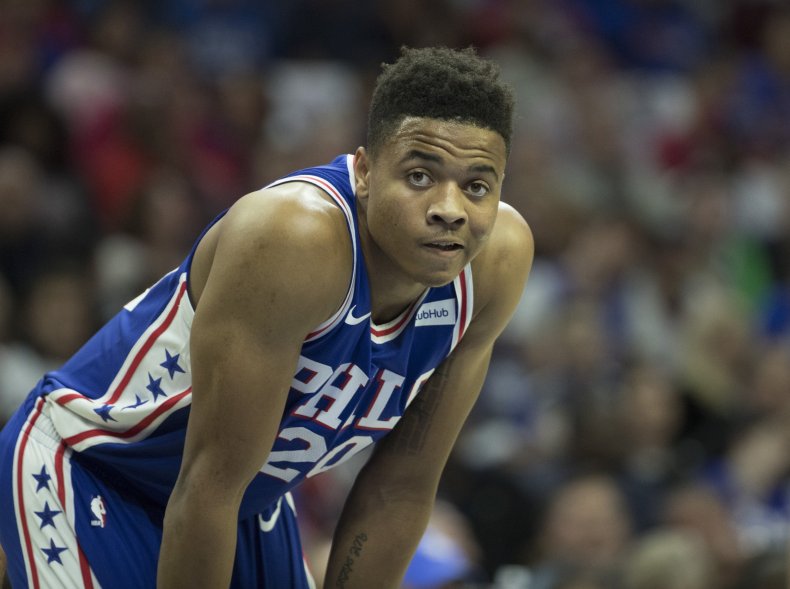 Fultz's struggles were highly publicized and so severe that, at times, his jumper seemed almost comically broken. On free throws, for instance, he would push the ball toward the hoop rather than make a fluid shooting motion. He largely avoided shots from distance entirely.
Fultz ended up sitting for much of the year before returning toward the end of the season. He looked improved but the jump shot never really recovered and he was relegated to the bench for much of the Sixers' playoff run.
In the video published by the Players' Tribune Fultz talks about the struggles with his shot.
"It was a lot of things going on with changing shots, and all this, that and the third" Fultz said over video of his reworked jumper. "But for me, I'm a hooper, so I was like, 'Man, this isn't going to stop me.'"
The 2017 No. 1 overall pick then noted that he really did have an injury—he had shoulder issues—and that he sat down with doctors to try to fix it.
"We figured it out and I've been back to work this summer," Fultz said, while the video showed made jumper after made jumper. "And everything's back to even better than what it was."