The Market Would Be Surprised if It's 'Not a Blue Sweep' in November, Says Morgan Stanley CIO
Morgan Stanley's chief investment officer, Mike Wilson, said that the markets expect Democrats to sweep the general election in November and that a Republican victory would be a surprise.
National polls, as well as polls out of key swing states, have suggested for months that Democratic presidential nominee Joe Biden is favored to beat Republican President Donald Trump in the upcoming election. Polls also suggest that at least seven Republican senators are in danger of losing their seats to Democratic challengers, which could flip control of the upper chamber of Congress.
In a Tuesday morning interview with CNBC's Squawk Box, Wilson, who also works as Morgan Stanley's chief U.S. equity strategist, said, "With respect to the election, you know the polls have been leaning towards a blue sweep now for several months." He added that "the market is saying a blue sweep is gonna happen."
"It's dealing with that right now," he said. "The surprise would be if it's not a blue sweep." During the interview, Wilson also downplayed concerns critics have raised about economic proposals from Biden.
Newsweek reached out to the Republican National Committee for comment but did not hear back before publication.
Trump and Republicans have consistently dismissed negative polling, arguing that most pollsters are biased against the president and GOP lawmakers.
The current Real Clear Politics and FiveThirtyEight averages of national polls show Biden as the favored candidate to win in November. Real Clear Politics has Trump trailing his Democratic rival by an average of 6.1 percentage points, while FiveThirtyEight shows the president behind by about 7 percentage points.
When it comes to key battleground states—Arizona, Florida, Michigan, North Carolina, Pennsylvania and Wisconsin—Biden appears to be favored in all six, according to the Real Clear Politics polling averages from those states. However, the race is tight in North Carolina and Florida.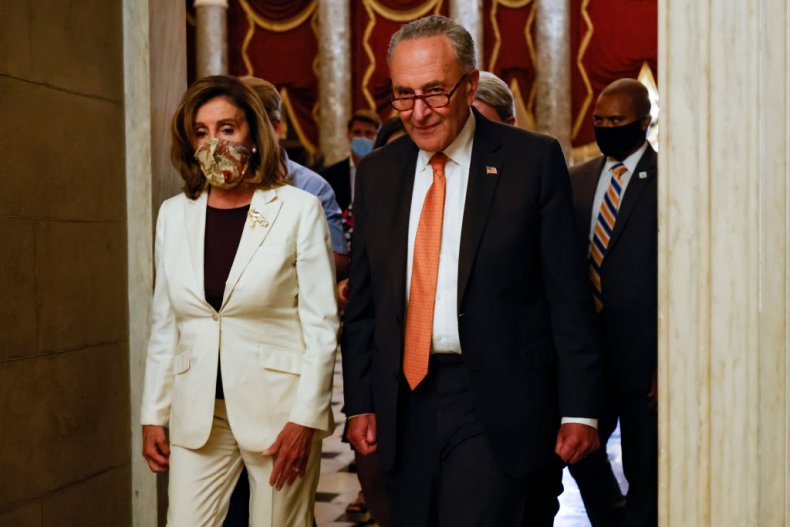 Senate election forecasts by FiveThirtyEight and The Economist both project that Democrats are more likely than Republicans to control the upper chamber of Congress following the election. According to The Economist, Democrats have a 69 percent chance of taking control of the Senate, while Republicans have just a 31 percent chance of maintaining their control. FiveThirtyEight's forecast shows the same chances. Democrats already hold more seats that Republicans in the House of Representatives and are expected to maintain that control.
Currently, the Senate is composed of 53 Republicans, 45 Democrats and two independents who caucus with their Democratic colleagues. If the Democrats manage to gain just four GOP-controlled seats, they'd take control of the Senate. If they manage to gain just three seats—and if Biden wins—Democrats would still have the advantage in the upper chamber, as Biden's vice presidential nominee, Kamala Harris, would cast the tie-breaking decision on evenly split votes.