Markets Tumble as Greek PM Takes Big Gamble on Presidential Vote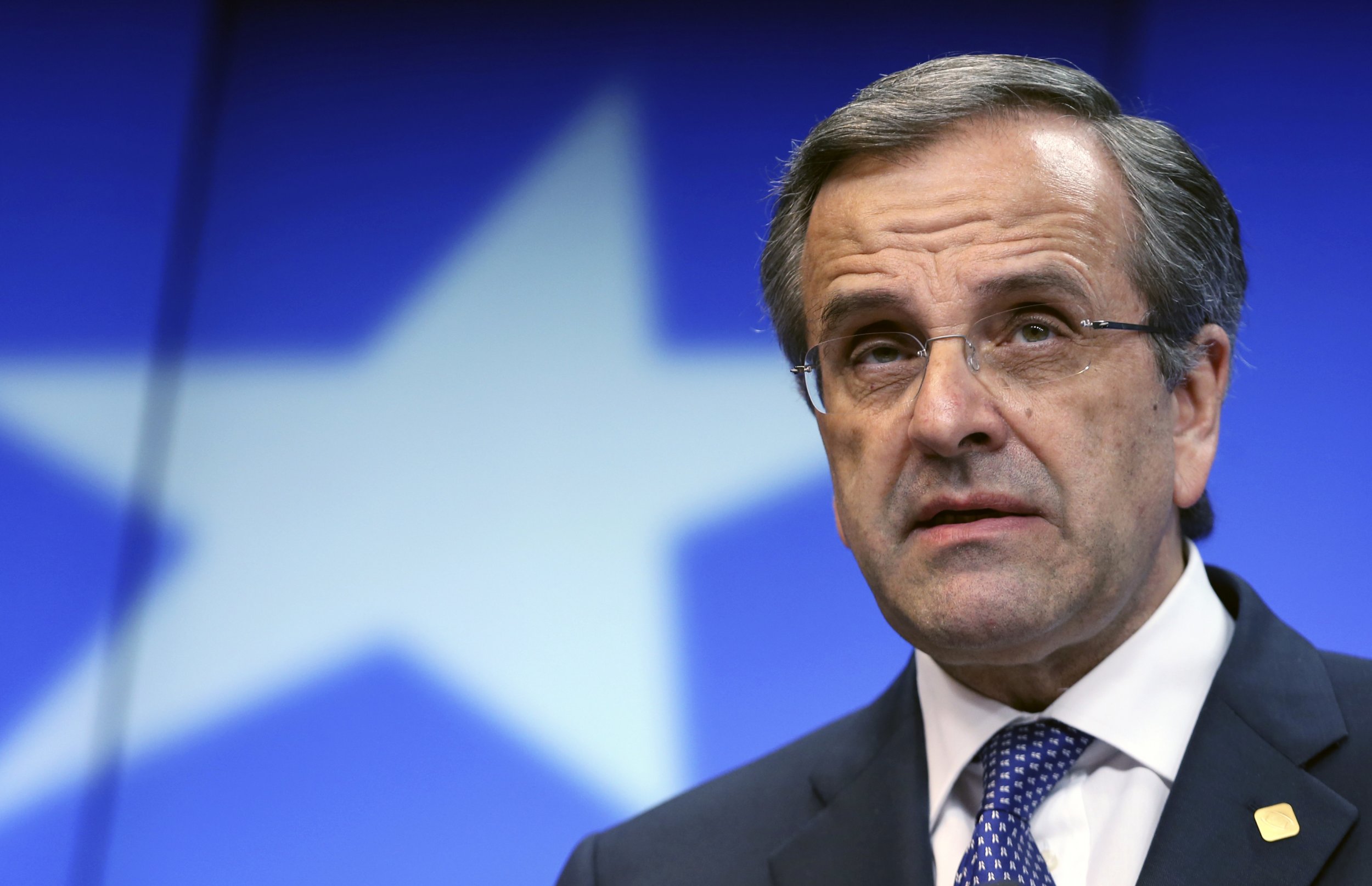 Greek stocks suffered their steepest daily fall in more than a quarter century on Tuesday and its bond yields jumped after Prime Minister Antonis Samaras brought forward a presidential election in a gamble over his, and the country's future.
If Samaras fails to secure victory in parliament for his presidential candidate, snap national elections will be called that the leftist Syriza party - a fierce opponent of Greece's bailout deal with the European Union and IMF - is likely to win.
Financial markets took Samaras's do-or-die decision badly, as he lacks enough support to win the vote in parliament without the backing of independents and small parties.
The Athens general stock index tumbled 12.8 percent, its biggest loss in a day since 1987. An index of Greece's listed banks fell 14.7 percent, with Attica Bank down 27.5 percent.
The decision sent 10-year Greek government bond yields up 74 basis points to 8.09 percent. This is a level the government could not afford to borrow at for long if, as it hopes, the country exits the widely hated bailout program and finances itself on the debt market.
German 10-year Bund yields, which fall in times of uncertainty as investors seek refuge in top-rated assets, were down 3 bps at a record low of at 0.688 percent.
Bondholders fear the possibility of Syriza abandoning austerity policies imposed to bring Greece's state finances into order. They prefer pro-business governments that would stick to the rigors imposed by the IMF/EU program - which have helped to slash Greeks' living standards.
"We are likely to see a lot of volatility over the coming months as investors are likely to avoid Greek assets until the political situation becomes clearer," said IHS Global Insight analyst Diego Iscaro.
The Democratic Left and Independent Greeks, parties whose lawmakers are being courted by both the government and Syriza before the presidential vote, repeated on Tuesday they would not back the government's candidate, former European Union environment commissioner Stavros Dimas.
The decision by Samaras to bring forward the parliamentary vote, the first round of which will be held on Dec. 17, is a calculated bet that a small window has opened up to persuade reticent lawmakers into backing the government and avoiding a new Greek crisis, just as it puts the worst of its downward economic spiral behind it.
The surprise move was finalised by Samaras and Evangelos Venizelos, leader of his junior coalition partner PASOK, on Monday as euro zone ministers were discussing extending the bailout by two months.
In Brussels, German Finance Minister Wolfgang Schaeuble said on Tuesday a credit line may be made available to Greece at the end of February but no fresh money would be needed.
An extension of the bailout would give Athens just enough time to hold the presidential vote and national elections if needed, before the bailout exit and terms of a precautionary credit line in the post-bailout period are set.
While the presidency is largely ceremonial, the constitution demands parliamentary elections if the government cannot get lawmakers' support for its candidate.
Failure by Samaras, who leads the conservative New Democracy party, could bring in a new era in Greek politics with radical leftists taking the helm. Alternatively, it could lead to a period of political paralysis if Syriza fails to find partners to form a coalition government.
BETTING ON FEAR
Samaras is betting that fear can be used to persuade about two dozen independent lawmakers and perhaps some from two small anti-austerity parties - former coalition ally Democratic Left and the right-wing Independent Greeks - to back him after all.
Moving up the vote effectively forces them to back Samaras's plan for pulling Greece out of the bailout program or face the uncertainty of snap elections. Syriza would get 29 percent and Samaras's New Democracy party 24 percent if elections were held now, according to a Pulse poll published on Monday.
Samaras needs the backing of 180 lawmakers - 25 more than he currently has in his coalition - to win the vote. If he does, he would clear a hurdle that has stood in the way of his government for months.
Samaras would then be free to finalize contentious terms of an early exit from the bailout, which is widely hated by Greeks due to its demands for austerity, without fearing his own political demise.
"When the current parliament elects a president at the end of the month the clouds will be gone and the country will be ready to officially enter the post-bailout era," he said in a televised address.
The government is almost certain to fail the first two rounds of the presidential vote , when it needs the support of 200 lawmakers to secure victory for its candidate. It has the best shot of winning at the third vote on Dec. 29, when it needs the backing of 180 lawmakers.