Marla Gibbs has revealed she was "overwhelmed" when she appeared to pass out while receiving a star on the Hollywood Walk of Fame on Tuesday.
The 90-year-old actress—star of classic sitcoms The Jeffersons and 227—was in the midst of giving a speech to a crowd of well-wishers as she stood on a podium on Los Angeles' Hollywood Boulevard, when she paused, before closing her eyes.
During the concerning moment, which was livestreamed, the comedy legend's son was seen rushing to her aid before she took a break from the outdoor proceedings in the 88-degree heat.
Her daughter, actress Angela Elayne Gibbs, told the crowd: "She just needs a moment, she said, to cool down and then we're gonna do the unveilings."
Following the ceremony, Marla Gibbs told KABC-TV entertainment reporter George Pennacchio of her new honour: "I never thought it would happen, but here it is."
When Pennacchio enquired how she was doing after the incident, asking if she "just felt the heat," Gibbs chuckled as she said: "I just got overwhelmed for a minute. I haven't been excited until this moment!"
A representative for Gibbs further told Entertainment Weekly that the actress got overheated, but is "doing great" and had a "great time at the after-party."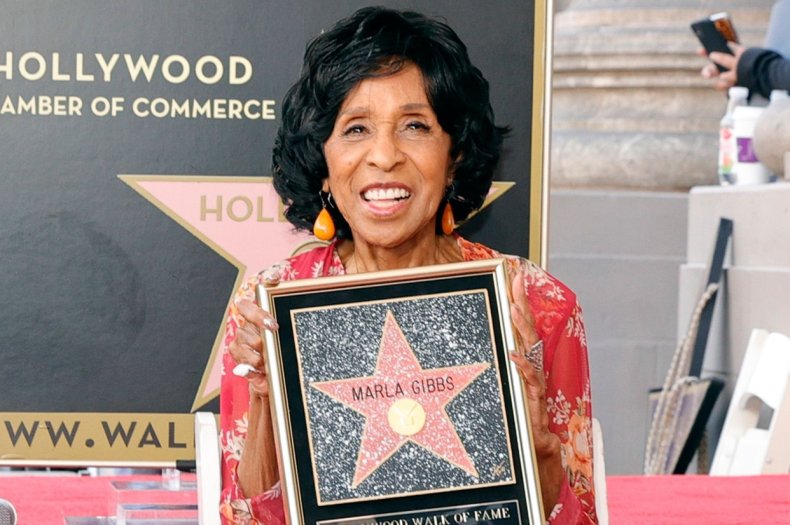 A host of celebrity supporters attended the event on Tuesday, including veteran producer Norman Lear, creator of The Jeffersons, which ran from 1975 to 1985.
"It's only because of you that they know me," Gibbs said to Lear at the ceremony, per Entertainment Weekly. "Thank you so much. And thank you to all of you who have been fans of The Jeffersons and 227.
"We love you and it's because you watched us that we were able to excel, and I'm able to be here today. Thank you. And I want to give special thanks to my daughter and my grandson for all the hard work that went into putting this event together."
Sharing his own tribute to Gibbs, Lear said: "This glorious person, performer, actress made me laugh in parts of my body I didn't know existed."
Making a speech at the event, actress Tisha Campbell highlighted Gibbs' historic achievements, saying: "She went on to become the first woman—not just the first Black woman, not just the first African American woman—the first woman to executive produce and star in her own television series, 227."
Speaking with KABC-TV from the ceremony, Kym Whitley said of Gibbs: "I remember seeing Marla. I was like, 'I'm funny. I can do that also.'"
"That's what we mean when we say she's our Betty White because there was somebody that looks like us and we could dream," said Sherri Shepherd.
Gibbs' star on Hollywood Boulevard sits in a prime spot—outside the building where Jimmy Kimmel Live! is filmed, and across the road from the Dolby Theatre, which has been home to the Academy Awards since 2002.