Marla Maples Shares Picture of Tiffany Trump, Reminding Us All Donald Trump Was an Absentee Father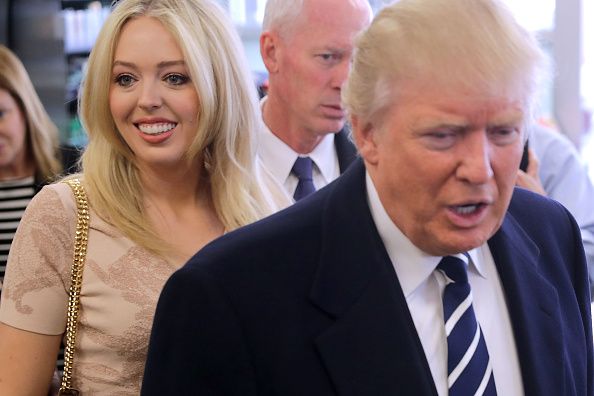 President Donald Trump's second wife, Marla Maples, shared a cute throwback Thursday photo of her with their daughter, Tiffany Trump, from the 1990s with the two posing in matching blue turtlenecks.
"#tbt To a New Years Trip years ago with Tiffany. Fun adventure in baking but why am I always the one with flour on my nose Hope you are all off to a great start in this New Year of New Life of 2018," the Instagram post reads.
But Donald Trump was notably missing from the photo—and that is not surprising.
Maples and Trump divorced in 1999, when Tiffany was six years old. After, Maples raised Tiffany in California, making her home-cooked meals and watching movies together, according to People. In the throwback photo, the two are seen posing while baking cookies, with a dollop of cookie dough on Maples's nose.
Occasionally Maples would take the couple's daughter to New York to meet Trump for dinner, but Maples still considered herself a single mother.
"Her daddy is a good provider with education and such, but as far as time, it was just me," Maples told People. "Her father wasn't able to be there with day-to-day skills as a parent. He loves his kids. There's no doubt. But everything was a bit of a negotiation."
A New York Times profile of Tiffany Trump in 2016 claimed the youngest Trump daughter really did not have much contact with her father, unlike her older siblings.
"She'd like to get to know her father better and spend time with him like his other children did: by going to his office and watching him work," Maples told the Times.
Tiffany Trump, known as the "forgotten daughter," has only gone to the White House for big events and does not have a large role in the White House like her brothers and sisters. She is currently studying law at Georgetown University in Washington, D.C., close to her dad's office.
Trump is a father of five, with children from three marriages. With Ivana Trump, his first wife, the president had Donald Jr., who recently turned 40; Ivanka, 36; and Eric, 34.
Trump and Maples, his second wife, married in 1993 and had Tiffany, now 24.
His youngest child is Barron, with third wife Melania Trump, whom he married in 2005. Barron will turn 12 in March.
The childhood experiences of the Trump children vary. In a 2004 interview with New York magazine, Trump said that "he's a really good father," and his kids couldn't love him more if he spent 15 times more hours with them. But Eric has mentioned that his older siblings were the ones who raised him, especially after his parents' divorce.