'Marley & Me' and the Rise of the Dog Memoir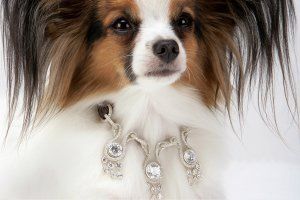 Two years ago, Dana Jennings found out that he had an aggressive form of stage-III prostate cancer. His wife and two boys were supportive, but what really helped him through his fight was his 12-year-old miniature poodle, Bijou de Minuit. "I had radical surgery. When I got home and I was lying in bed, she would jump on the bed and lick my feet," Jennings says. "Other times, she would walk over and put her snout on my side. She was trying to give me her presence. She realized it was strange [that] Dad was in a bed."
Jennings, now 53, was particularly struck by the fact that his dog's own health was failing—she had epilepsy—but she still seemed to be enjoying every moment of her life. Jennings blogged about that, how he and his pet were both determined to get better. Eventually, that post landed him a six-figure advance for a book called What a Difference a Dog Makes: Big Lessons on Life, Love and Healing From a Small Pooch, published in November. "In a weird way, this book is an unexpected gift I was given after being sick," Jennings says.
It's not entirely surprising. The literary world is lapping up dog books, with a record number of volumes on bestseller lists in 2010. A search on Amazon.com turns up three dozen first-person dog narratives published in 2010. This new genre even has a name: the "dogoir." That's in addition to the countless doggie children's books, training books, breed books, cookbooks, even psychology books. In the past, "dog books didn't get on national bestseller lists," says Publishers Weekly senior editor Dick Donahue, who wrote a column about the phenomenon in November, noting seven recent fiction and nonfiction bestsellers. "That is something we can credit Marley with."
He's referring to Marley & Me, John Grogan's dogoir from 2005 about his relationship with a hyper yellow lab. The book went on to sell a staggering 6 million copies and was made into a hit movie with Jennifer Aniston. "People came out of the woodwork with their own dog stories," says Susan Canavan, executive editor of Houghton Mifflin Harcourt, who published two dog books this year. "And it made editors, writers, and publishers think they can cash in on the popularity of dog stories."
The core audience for these books—dog owners and lovers—is a dream demographic. Americans own 77.5 million dogs and, despite a bad economy, most pet owners have not cut down on spending for their pooches, according to the Pet Products Manufacturers Association 2009-2010 National Pet Owners Survey. "I think dogs in our lives have taken the avenue kids have 20 years ago, where we're much more involved in our kids' lives," Canavan says. "I feel like that's what's happened with dogs."
Grogan is well aware now how influential his book has become. "No one was more surprised than me," he says, adding that he's used the paycheck from his book to buy an 18-acre farmhouse in Pennsylvania. "There are a lot of [dogoirs] out there right now," he says. "When I wrote Marley & Me, I didn't think of it as a pet book. It was really my family's story with this dog—I never thought of it being in that genre, let alone creating a genre."
Bruce Cameron has penned a dogoir with a twist: it's a novel told from the point of a view of a dog that has been reincarnated, called A Dog's Purpose. The book has spent 12 weeks on the New York Times bestseller list, and DreamWorks is making it into a movie. "I got to the point [in reading the book] where the dog first died and I started crying on the train, and I don't do that—I don't cry on public transportation!" says the book's editor, Kristin Sevick. "And then I saw he was alive again."
Usually, the sappier the subject matter, the better. Author Julie Klam has found a hit with her book, You Had Me at Woof: How Dogs Taught Me the Secrets of Happiness, which has been a bestseller since its Oct. 28 release. These books "provide a respite," says Geoffrey Kloske, vice president and publisher of Riverhead Books. "I think in difficult times, a dog story is a safe harbor from all of the bad stories you are going to consume. And the dog is likely to be adorable."
For Klam, a dog owner herself, just being near dogs will put a smile on her face. "This past week I was shoe shopping at Saks, and it was all that is wrong with the world, all these expensive heels," she says. "And I came out of Saks and there was this man walking a cockapoo, an old gray dog doing his thing very slowly. And that old gray dog brought me back to feeling OK."