Donald Trump's Approval Rating is Even Lower Than Maligned Super Bowl Halftime Band Maroon 5's: Poll
A fair number of folks are upset that Maroon 5 is playing the Super Bowl halftime show in Atlanta on Sunday. And a good number of Americans seem to be, at best, pretty indifferent about the Adam Levine-led band.
But the Los Angeles-based act can at least rest easy knowing their approval rating tops that of President Donald Trump.
A survey from YouGov/The Economist released this week asked Americans: "Do you approve or disapprove of Maroon 5 performing at halftime of this year's Super Bowl?"
Forty percent approved, 13 percent disapproved and nearly half, 47 percent, were not sure.
The same YouGov/The Economist poll found that just 37 percent of Americans approved of the job Trump has done as president. That's about in line with FiveThirtyEight's tracker of Trump's approval rating—which aggregates public polls and adjusts for each survey's quality, recency, sample size and partisan lean—that pegged the president's approval at 39.5 percent on Friday. Trump's popularity has tumbled in recent weeks, pushed down, it seems, by the longest-ever government shutdown that Trump sparked with his demand for funding for his long-promised border wall.
Drilling down further, the poll from YouGov/The Economist found that 21 percent of Americans had a very favorable view of Maroon 5 while 27 percent had a somewhat favorable view of the band—meaning 48 percent, in total, held a favorable view. Meanwhile, 27 percent of Americans had a very favorable view of Trump and 13 had a somewhat favorable view—good for 40 percent overall.
However, nearly half the country—48 percent—had a very unfavorable view of Trump while just 8 percent said the same of Maroon 5, according to the poll.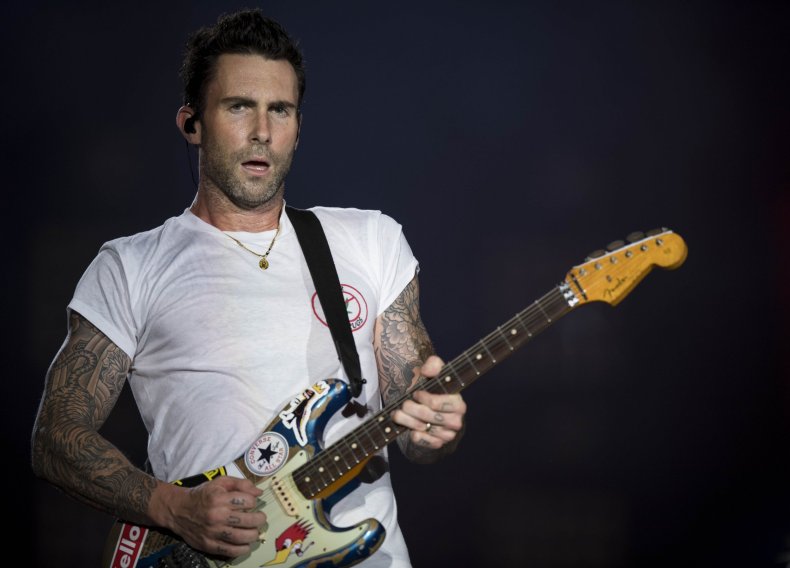 The survey from YouGov/The Economist polled 1,500 U.S. adults from January 27 through January 29. It had a margin of error of plus or minus 3.2 percentage points.
Levine, the celebrity lead singer of Maroon 5, acknowledged the controversy surrounding the band's decision to play the halftime performance. Other performers have opted to skip the traditionally coveted slot over Colin Kaepernick still being kept out of the league after protesting police brutality. Some had also been upset that Maroon 5 was chosen to play over Atlanta artists (local legend Big Boi has since been added to the lineup as has Travis Scott).
"I'm not in the right profession if I can't handle a little bit of controversy. It's what it is. We expected it. We'd like to move on from it and speak through the music," Levine told Entertainment Tonight. "I silenced all the noise and listened to myself and made my decision based upon how I felt."