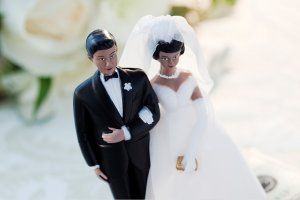 When Laurie Aronson was 29, she had little patience for people who inquired why she still wasn't married. "I'm not a little spinster who sits home Friday night and cries," she'd say. As she passed 35, however, and one relationship after another failed to lead to the altar, she began to worry. "Things were looking pretty bleak," she says. But then a close friend's brother--a man she'd known for years--divorced. Slowly their friendship blossomed into romance. At 39, Aronson married him, becoming Laurie Aronson Starr and the stepmom to his three kids. Then, after five years of infertility treatment, she became pregnant with a son who'll be 4 in July. "My parents are thrilled--it's a relief for everyone," says Starr, now 49. "I wish I could have found the right person earlier and had more children. But I'm ecstatic."
As happy endings go, hers has a particularly delicious irony. Twenty years ago this week, Aronson was one of more than a dozen single American women featured in a NEWSWEEK cover story. In "The Marriage Crunch," the magazine reported on new demographic research from Harvard and Yale predicting that white, college-educated women who failed to marry in their 20s faced abysmal odds of ever tying the knot. According to the research, a woman who remained single at 30 had only a 20 percent chance of ever marrying. By 35, the probability dropped to 5 percent. In the story's most infamous line, NEWSWEEK reported that a 40-year-old single woman was "more likely to be killed by a terrorist" than to ever marry. That comparison wasn't in the study, and even in those pre-9/11 days, it struck many people as offensive. Nonetheless, it quickly became entrenched in pop culture.
Across America, women reacted with fury, anxiety--and skepticism. "The popular media have invented a national marital crisis on the basis of a single academic experiment ... of dubious statistical merit," wrote Susan Faludi, then a 27-year-old reporter at the San Jose Mercury News, who saw the controversy as one example of a backlash against feminism. Boston Globe columnist Ellen Goodman wrote: "How gleefully they warn that an uppity woman may be overqualified for the marriage market. Reach too high, young lady, and you'll end up in the stratosphere of slim pickings."
Twenty years later, the situation looks far brighter. Those odds-she'll-marry statistics turned out to be too pessimistic: today it appears that about 90 percent of baby-boomer men and women either have married or will marry, a ratio that's well in line with historical averages. And the days when half of all women would marry by 20, as they did in 1960, only look more anachronistic. At least 14 percent of women born between 1955 and 1964 married after the age of 30. Today the median age for a first marriage--25 for women, 27 for men--is higher than ever before.
To mark the anniversary of the "Marriage Crunch" cover, NEWSWEEK located 11 of the 14 single women in the story. Among them, eight are married and three remain single. Several have children or stepchildren. Twenty years ago Andrea Quattrocchi was a career-focused Boston hotel executive and reluctant to settle for a spouse who didn't share her fondness for sailing and sushi. Six years later she met her husband at a beachfront bar; they married when she was 36. Today she's a stay-at-home mom with three kids--and yes, the couple regularly enjoys sushi and sailing. "You can have it all today if you wait--that's what I'd tell my daughter," she says. " 'Enjoy your life when you're single, then find someone in your 30s like Mommy did'."
Among the women who remain single, two say they became preoccupied with something more important than spouse-hunting. Back then, Lillian Brown was a 50-year-old single woman who was adopting a child. Raising her daughter took most of her energy but was profoundly rewarding. Today Brown is a grandmother and contentedly single. "At this stage in my life, I certainly don't see any reason to be married," she says.
One striking aspect of this Where Are They Now exercise: none of these women divorced. Perhaps it's no coincidence. Statistically, people who marry at much higher-than-average ages don't have lower odds for divorce. But some experts are starting to think that later-in-life marriages may have better chances of survival. "It makes sense--if you're getting married at a later age ... you'll have gone through a lot of relationships, and you'll know what you want [and] what you don't," says Elizabeth Gregory, director of the women's studies program at the University of Houston and the author of "The New Later Motherhood," to be published in 2007.
Today a new generation of sociologists continues to tinker with the delayed-marriage puzzle. The latest research--a 2001 study by Princeton sociologists Joshua Goldstein and Catherine Kenney and a 2004 paper by University of Maryland sociologist Steven Martin--concludes that roughly 90 percent of baby boomers will eventually marry. In a shift from the earlier studies, done in the mid-'80s, however, the newer studies conclude that nowadays, a college degree makes a woman more likely to marry, not less. The Princeton paper suggests that for female college graduates born between 1960 and 1964, 97.4 percent will eventually marry.
When today's single women discuss their marriage ambitions, however, they sound markedly different from women 20 years ago. "I just don't think the alarmist mentality is there anymore," says Bonnie Maslin, a New York psychologist who was quoted in the 1986 story. "I just don't see the franticness."
By most accounts, men's attitudes have evolved, too. "Generationally, I think Gen-Xers [of both genders] have a real commitment to marriage," says John Wise, 35, a finance manager in Baltimore. That's true, he says, because many watched their parents divorce. Wise figured he'd marry by 27, but he's still on the hunt. And despite the cultural notion that it's women who fixate on bridal magazines, Wise admits he's spent time imagining the blowout wedding he'll share with his bride, whoever she may be.
Beyond all the research and forecasts, the real story of this anniversary is the unexpected happily-ever-afters. In the 1986 story, Boston public-relations executive Sally Jackson was happily single. At 47, she married a man she'd known for years. Today she revels in having a travel companion, someone to love unconditionally who'll love her back. "Being blissfully married is better than being blissfully single, but not by that much," she said a few weeks ago. Several days later she called back. She'd lied: "Being married is really a lot better," she says. That may not be what single men or women want to hear. But for people of all ages who hope to offer their hands in marriage someday, the odds look far better today than a long-ago magazine article may have led you to believe.