'Marriage Story' on Netflix: Why Adam Driver Singing 'Being Alive' From 'Company' Is So Significant
Marriage Story viewers having been singing the praises of the movie on social media ever since it was released on Netflix, but one scene in particular has gone viral in its own right.
Towards the end of the movie, as Charlie (played by Adam Driver) tries to take his mind off the trauma of his divorce by drinking with his theater troupe at a piano bar, the film briefly becomes a musical, with the actor giving his version of "Being Alive," a song from the Stephen Sondheim musical Company.
In a number of interviews since Marriage Story was released, Driver and director Noah Baumbach have spoken about why the "Being Alive" scene is crucial to the movie and what it was like to film.
"I find singing in general terrifying," said Driver in an interview with The Skinny. "If you asked me to sing an Elvis song here for you now, that'd be terrifying. Luckily in that scene, it's focused around character. And Noah was very clear it wasn't just a song for a song's sake, it had to have meaning and purpose."
Baumbach added: "I've half-joked that I've reverse-engineered this entire movie just to get Adam to sing that song. Adam and I had been talking about Company a lot, and that song in particular and how great it is. And I kept thinking, 'I've got to find a way to get Adam to sing that song.'"
However, rather than an excuse to get the actor to sing, in Driver's mind, the song is crucial to the emotional development of Charlie as he moves on from his time with wife Nicole (Scarlett Johansson). At a Screen Actors Guild Q&A, reported on by Esquire, Driver said of the scene: "The two characters started in this polar opposite journey. Before the movie starts, Scarlett has already made a decision. She's executing for the first half and building herself and reclaiming the thing she thinks she lost. Whereas Charlie, a director, who is so used to being in control, is now on the back foot.
"He's playing catch up, and it's not until this spontaneous moment happens [that] he really starts to process not that love is gone, but that it's a transition through something else... You see his relationship to art and how it's only through something abstract can he really process, can he name 'the thing?'"
This is in contrast with Nicole's performance of "You Could Drive a Person Crazy," another song from Company that is kitschy and staged where "Being Alive" is sincere and spontaneous. Nicole's song feels like something she and her family have rehearsed, while Charlie's song feels like an outpouring directly from his heart.
According to Baumbach, part of this was his choice to have Driver not just sing the song, but also perform all of the dialogue moments. Speaking to Vulture, Baumbach said, "We got together and started to play around with him singing it and rehearsing. It was actually a couple of months before we started to do it, and [we thought] he would know it so well that he could remember all the lines."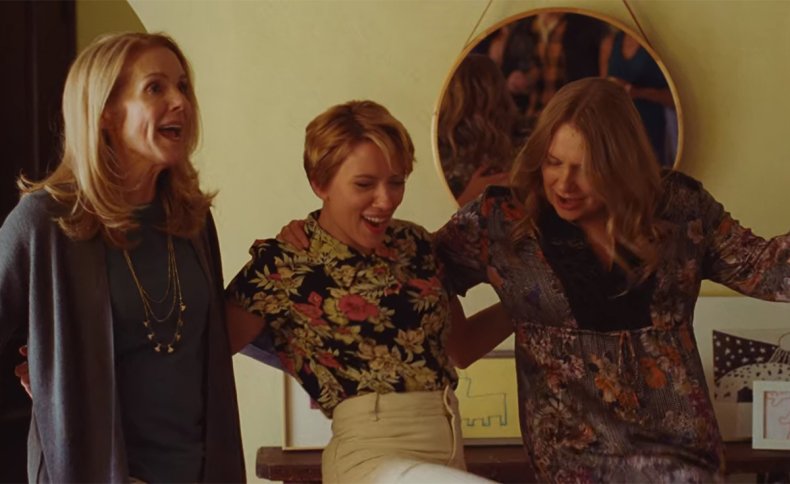 Asked by IndieWire what he loves about Driver's voice, Baumbach said: "I'd heard him sing. It's good because it's human."
The director added: "I wanted the song to have the same function songs do in musicals: the character arrives at another place by the end of the song. It's story and character. This material offered many hidden and not so hidden genres in it: comedy, horror, thriller, court procedural, love story, musical."
On the subject of musicals, fans of Marriage Story charmed by Driver's singing will soon be able to see him in a genuine musical. The Girls actor is soon to star in Leos Carax's Annette, featuring music written by new wave band Sparks.
Marriage Story is streaming now on Netflix.