Meet the Families of 'Married at First Sight: Couple's Cam' Season 1 Premiere
What happens when you meet the person you're destined to marry on your actual wedding day, and after eight long weeks of getting to know each other, you both decide to see this marriage through?
It's the question fans of Married at First Sight [MAFS] have long wondered, and it's one that will finally be answered on the Lifetime reality show's new spinoff, Couple's Cam.
MAFS viewers have watched season after season as complete strangers made their way down the aisle and tied the knot, met family members and friends, endured feisty honeymoons, epic arguments and heartwarming makeups over the course of an eight-week romantic experiment.
For most of the couples featured on the 10 seasons of MAFS, marriages have ended with divorce by the time decision day rolls around. However, there have been a few MAFS lovebirds who have found success with the show and have remained married to this day. Finally, fans will get to see how a few married fan favorites are still making it work.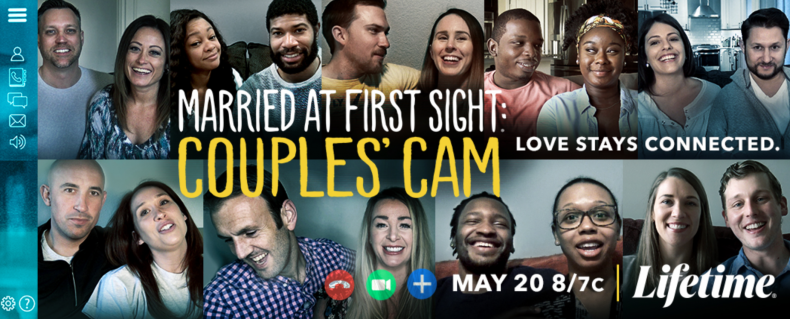 Complied with footage captured by each couple, the self-shot Couple's Cam follows the daily lives of nine couples from MAFS, giving fans a more intimate view into the lives they've built together along with their personal achievements and the expansions of their families since ending their time on MAFS.
Find out more about each couple featured on Married at First Sight: Couple's Cam below. The Lifetime reality series premieres on Wednesday at 8 p.m. ET.
Jamie Otis and Doug Hehner
It was the first season of MAFS when Jamie and Doug met and married in 2014. Jamie had reservations about her husband when she first met him, initially thinking that he wasn't her type. The pair is now parents to 3-year-old Henley Grace, and the newest member of the family, a son named Hendrix who arrived in early May.
Ashley Petta and Anthony D'Amico
The MAFS Season 5 couple hit it off right away, and they've remained happily married ever since they exchanged vows in 2017. Back on the show, their biggest issue was balancing the power roles of their relationship, but they managed to finally fall in sync by the time decision day came. Now the Chicago couple has a new boss of the family, 1-year-old daughter Mila Rose.
Shawniece Jackson and Jephte Pierre
It was a rocky road for Shawniece and Jephte when they first met and married on MAFS Season 6. They clashed often and struggled to communicate with one another early in their marriage, and they even separated for a while after the season ended. But with the help of the counselors, they were able to stick it out and work through their problems. Now they're happier than ever and are the proud parents of 2-year-old baby Laura.
Danielle Bergman and Bobby Dodd
The couple often struggled to get along when they were first paired together back on MAFS Season 8. Danielle found compromising with her new husband incredibly hard, and Bobby wasn't so great at speaking up for himself. But thanks to the help of the MAFS relationship experts and the couple's dedication to honor their vows, things got better over time and they remained together. They welcomed their first child together, Olivia, in February 2019.
Stephanie Sersen and AJ Vollmoller
The Season 8 couple seemed like a match made in heaven when they first met. They were instantly attracted to each other and got along great in the beginning. However, they faced a few upsets as they discovered just how independent they both are and as Stephanie learned more about AJ's temper. Since the show, though, the Philadelphia couple has gotten a better handle on working together and AJ's short fuse.
Kristine Killingsworth and Keith Dewar
Although they turned out to be yet successful Season 8 love story, Kristine wasn't too sure her husband was mature enough for marriage when they first started getting to know each other. Keith was very used to be catered to by his mother and grandmother—whom he lived with before tying the knot—and was hoping Kristine would be as domesticated as they were. Meanwhile, she was worried his mother's spoiling made him less dependable. Now headed towards their two-year anniversary, their outlook on each other and their marriage is a lot more positive.
Elizabeth Bice and Jamie Thompson
As many fights and blowouts as Elizabeth and Jamie suffered during their time on Season 9, it was nearly shocking when the pair finally managed to put their issues aside and work together for the greater good of their marriage. And here we are, nearly two years later and the pair are still hanging in there. They've flooded their social media with photos and sweet messages about each other and even appeared on the Lifetime special Married at First Sight: Where Are They Now? in April.
Deonna McNeill and Greg Okotie
Deonna and Greg's marriage got off to a slow start mostly because Deonna simply was not comfortable having to work in a union. She hadn't had a relationship in nearly 10 years before she and Greg wed on Season 9, and most of their problems stemmed from her lack of understanding about how partnerships work. Now, one year into the marriage, the pair are working together—although they still endure a couple of bumps and bruises along the way just like any other couple.
Jessica Studer and Austin Hurd
The newest of the newlyweds—it's only been a few months since Jessica and Austin got married on MAFS Season 10. They seemed to be an instant match and got along fairly well throughout the romantic experiment. However, Jessica often worried that Austin would not express his love for in the same way that she had. Finally, on decision day Austin said the words Jessica so desperately wanted to hear: "I love you." Now on Couple's Cam, viewers will get to see just how the lovers are holding up almost six months into their marriage.