'MAFS: Couple's Cam' Exclusive Sneak Peek — AJ Says It's a "Little Bit Emasculating" Relying on Stephanie
For typical couples, the chain of events usually starts with love and then comes marriage. But for husbands and wives of the Lifetime reality series Married at First Sight, it's always been the complete opposite.
Couples—paired together by a team of relationship experts and psychologists—meet on their wedding day and spend the remainder of the show getting to know one another. They can only hope to be in love by the time the eight-week experiment concludes. But in the 10 seasons of the U.S. franchise, only nine couples have managed to stay together.
Now, fans of the show will catch up with those few still-married lovebirds and see how their relationships are working out on the new reality spinoff, Couple's Cam, premiering on Lifetime on Wednesday night. The show is shot completely by couples—no camera crews there to egg them on, no producers to bait them for responses during confessional video sessions. It's just the husbands, the wives, their own camera equipment and, in some cases, their kids.
Among the nine couples giving viewers a glimpse into their daily lives as married folks are MAFS Season 8's Stephanie Sersen and AJ Vollmoller, who have been happily living together in Philadelphia for almost two years now.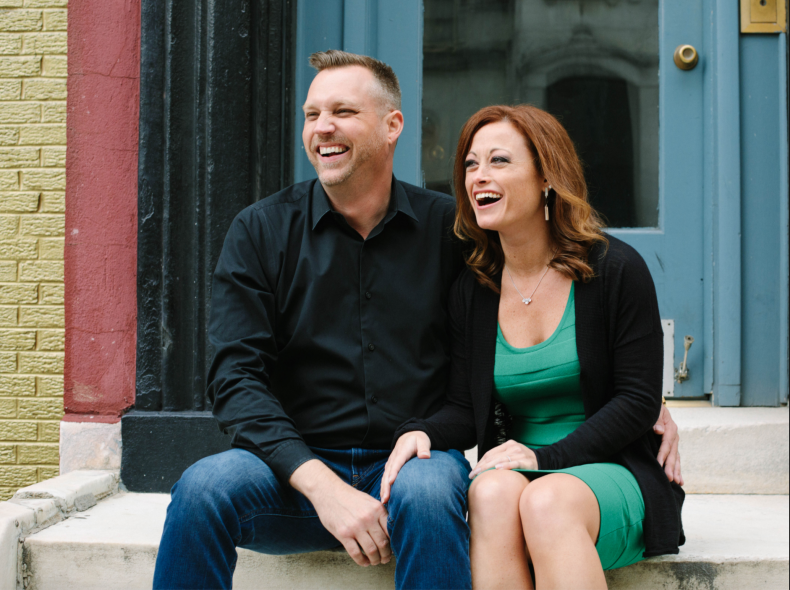 As fans will see, Stephanie is still hard at work at her financial consulting business, however, the coronavirus pandemic has resulted in the worst for AJ's business. He's completely unemployed.
In a MAFS: Couple's Cam sneak peek exclusive to Newsweek (above), AJ reveals just how much things have changed since viewers last saw the couple.
"Thanks to this pandemic, I'm out on my a**. Owning a head-hunting and staffing agency really doesn't pay the bills anymore for me because nobody's interviewing and nobody's hiring," he said.
Meanwhile, Stephanie is still as busy as ever. She's even taken over his home office and, in one clip, begs her husband to leave her alone while she takes meeting after meeting via web video.
Considering how independent both AJ and Stephanie are, AJ's unemployment is stirring up some of AJ's old behaviors MAFS fans know him for.
"As you all know from when I was standing on the altar, I get nervous. I'm having the same type of nerves right now with basically being unemployed," AJ said during a confessional. "At this time I'm relying on Stephanie to bring home the bacon, so it's a little bit emasculating too. I'm a pretty traditional guy, but that's what marriage is about—relying on each other in times of need."
AJ seems to be keeping a cool head about his situation for now, but only time will tell if his feelings about unemployment will remain on the positive side or bring out more of the old behaviors from back on his MAFS days—particularly that hot temper.
Married at First Sight: Couple's Cam premieres on Lifetime on Wednesday at 8 p.m. ET.