'Married At First Sight: Couple's Cam' Episode 2: Danielle's Baby Fever Worries Bobby
Baby fever is at an all-time high on Married at First Sight: Couple's Cam.
After introducing viewers to their tiny tots and children during last week's premiere, some of the reality TV parents made it clear that they are ready to add to their brood, and Danielle Bergman perhaps stood out the most.
After experiencing a rather rough pregnancy and delivery of daughter Olivia, Danielle is hoping to have another baby with her husband Bobby Dodd. However, in the Newsweek exclusive sneak peek of MAFS: Couple's Cam episode 2 (above), Bobby reveals he isn't so sure he wants to go through the trauma of pregnancy and labor again with his high-risk wife.
"So we need to make a decision. I just did the ovulation test, and this is like go time. We have like a two-day window really. So if we are going to decide that this month is the month then we got to get in that bedroom," Danielle said. "So what do you think? Do we want another baby or not? Or do we wait?"
Bobby doesn't hesitate to ask, "What if you go down again."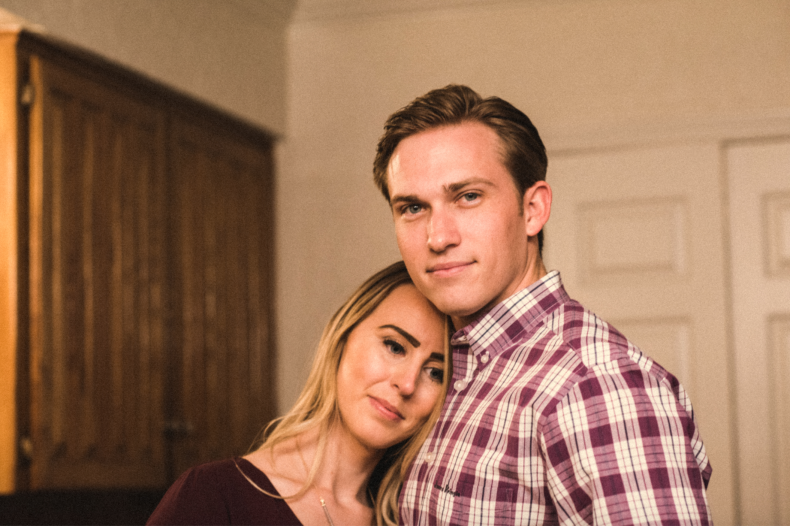 A flashback scene reveals Danielle suffered severe complications during her pregnancy after being diagnosed with HELLP Syndrome, a serious case of high blood pressure some pregnant women experience that can oftentimes be fatal. In a flashback scene, even Danielle was worried about her child's future after she endured severe bouts of nausea and violent vomiting that put her at a high risk of having a seizure.
"I just kept freaking out [about] what if I have a seizure or what if my blood pressure gets so high that I have a stroke? Then I can't take care of Olivia. So I think that was definitely the hardest part," Danielle cried in the video.
Bobby also shared his fears of having to leave the hospital alone.
"I kept asking the question, 'Am I going to leave with both of them,' and they just kept giving me the generic answer of, 'We're going to do our best to make sure that both of them go home with you,'" Bobby recalled.
Although it's been more than a year since Danielle and Bobby since their healthy and happy baby girl arrived, Bobby's worries about losing Danielle from a high-risk pregnancy are still prevalent today.
"We got away with it with one. We have another one and we don't get away with it, then what?" Bobby asked. "Is it worth the risk? We saw how the first one went. You know you're high risk. I'm on board with more kids, you know that. But I'm not on board with being a single dad."
Danielle says that she understands how Bobby feels, but instead of focusing on the many negatives that could come along should they try for baby number two, she plans to be more proactive about taking care of herself should she get pregnant.
"I mean, I feel like we would be almost better off this time because we would know a lot earlier [what's at risk]. We would know that it's possible, so we'd be able to be monitored a lot closer," she said. "So what do we do now this month? Do we wait or do we not wait?" Danielle asked.
Married at First Sight: Couple's Cam airs on Lifetime on Wednesdays at 8 p.m. ET.