Jamie Otis Goes Into Labor on 'Married at First Sight: Couple's Cam' Episode 4 Exclusive Sneak Peek
Married at First Sight stars Jamie Otis and Doug Hehner welcomed their second child into the world only a few weeks ago, and now the couple is giving fans a glimpse into their delivery experience on the upcoming episode of the Lifetime reality series' spinoff Couple's Cam on Wednesday.
Jamie gave birth to the couple's new son, Hendrix, at home in early May at the height of the coronavirus pandemic. And while the baby arrived happy and healthy, the moments leading up to his grand debut was a particularly nerve-racking one for his dad Doug.
In a Newsweek exclusive sneak peek of Episode 4 (above), Doug, seemingly on pins and needles, documents Jamie's contractions with the personal cam and tries to comfort his wife who is very obviously in a great deal of pain.
"Jamie woke up with mild contractions," Doug explains. "She's now in a lot of pain. she's saying they're becoming more frequent, and I don't know, I just feel like today's the day. I'm just hoping the midwife can get here and help coach us through this because he's coming."
Jamie is pretty sure she's dilated at least four centimeters by the time her midwife Dina arrives at the couple's home, where Jamie is set to give birth in a little pool in their bedroom. However, Dina informs her that she'll have to wait before she can get in the water, and with no doctors or pain relievers in sight, Jamie has no choice but to ride out the contractions until it's time to deliver the baby.
Doug does his best to soothe Jamie's pain by giving her a good rubdown, but he worries for his wife and the whole labor process in a confessional video.
"To be honest I've never seen Jamie in this much pain ever before. I mean, even for the first labor she had an epidural. It took the pain right away," Doug says. "And this is now something that neither of us had expected or could of planned for."
Doug adds: "This is just uncharted territory for us.
Shortly after Hendrix's arrival, Jamie and Doug opened up on their labor journey in an interview with People magazine in May, and Jamie described her son's delivery as "intense."
"The contractions came, and they were like fire—all-consuming of my whole entire body," Jamie says. "It was very, very painful, but I tried really hard not to panic and reminded myself that my baby boy is going through the same exact thing that I am."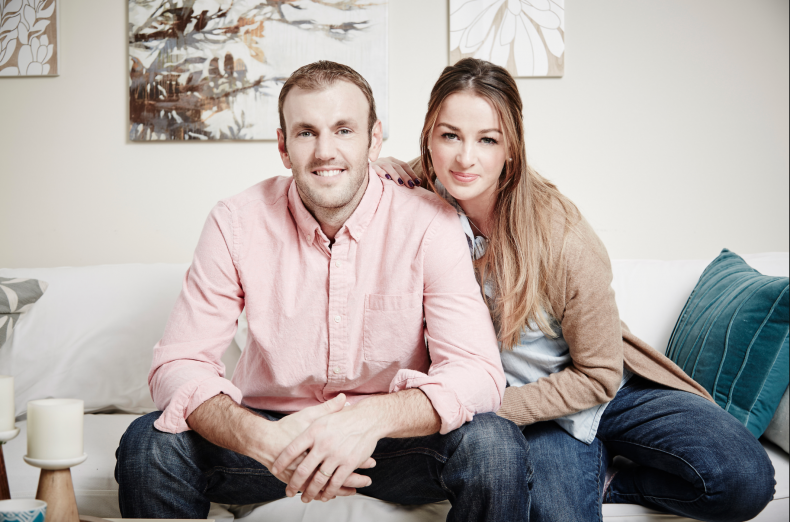 Despite all the pain she felt throughout the process, the labor went seamlessly and within five hours of her first contraction, little Hendrix was born.
"My midwife ended up helping me deliver him, and he came out and was perfect. He didn't even really cry! I had to stimulate him to cry. He was so calm," Jamie says.
Although Doug was initially worried for Jamie during the labor as fans will see on MAFS: Couple's Cam, in the end, the proud father said it was one of the most rewarding experiences of his life.
"I was never more in love with someone and in awe of someone than watching her give birth to our son," Doug says.
Married at First Sight: Couple's Cam airs on Lifetime on Wednesday at 8 p.m. ET.