'Married at First Sight Couple's Cam' Episode 3: Anthony and Ashley Worry About Financial Future During COVID-19 Shutdown
The coronavirus pandemic has taken a toll on working Americans across the country and Married at First Sight's Anthony D'Amico and Ashley Petta are no exception.
The Chicago-based couple both work in industries that have been affected by social distancing guidelines and shelter-at-home orders, especially Ashley, who was managing her family's bar and grill before coronavirus forced her to close the business' doors.
The uncertainty of the couple's financial future and that of her employees weighs heavily on Ashley on the upcoming episode of Married at First Sight: Couple's Cam, and the pressure only continues to mount when Anthony reveals he won't be bringing home as much as he hoped in the Newsweek exclusive Episode 3 sneak peek (above).
"I just found out that one of our biggest summits is now being pushed back," Anthony, whose company organizes corporate events, explained. "Everything's being pushed back to the fourth quarter. It's just going to be a little crazy because, you know, these events…I'm not going to get those bonuses."
Ashley worries that she'll only be more of a financial burden to the couple's growing family now that her family's bar is closed. "I don't think I'm going to get a paycheck for a really long time," Ashley confessed in the clip.
The family bar, which has operated in Chicago for more than 18 years, has been closed since a shelter-at-home order was given in Illinois in March. Although Ashley's family plans to reopen the establishment when it gets the go-ahead from state officials, she worries that business will never be what it once was.
"Even when we can open again, what's that going to look like?" she continued. "I think everybody's going to want to go out, but they're going to cap our capacity," Ashley said while fighting back tears. "There's no way they're going to say, 'Oh yeah, you can put 300 people in there shoulder-to-shoulder when we can open up."
She added, "It's hard enough to make money doing that."
Although Anthony assured Ashley that they will make it through this storm, she couldn't help but break down and cry while expressing the concerns she has for her staff.
"I just don't like to talk about it. I feel so bad for all my staff. At least we have one income we can rely on, but they're tips—they live off of that. Unemployment's not enough," she cried.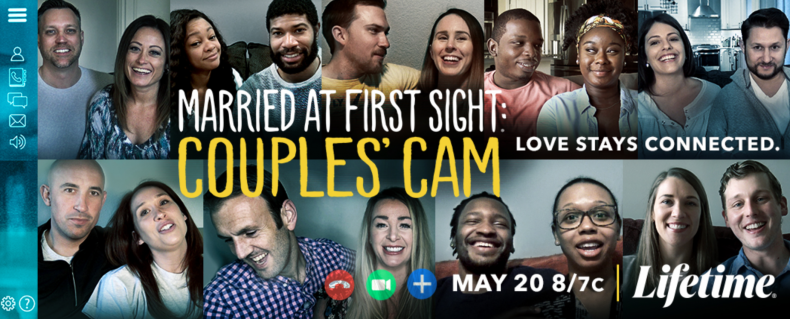 Anthony comforts her and acknowledges how terrible of a position they are both in.
"It sucks all around," Anthony replied. "Unfortunately we're in two businesses that are dramatically impacted by all of this. It's hard to look at the bright side of things when you're looking into the darkness, but we'll see what happens. Hopefully, we'll get out of this damn thing, but regardless we got us."
Married at First Sight: Couple's Cam airs on Lifetime on Wednesday nights at 8 p.m. ET.