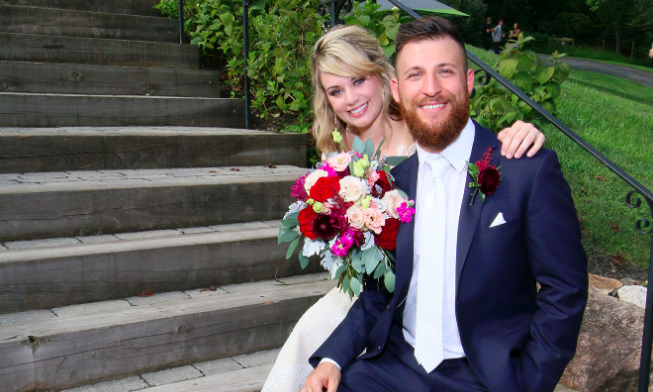 Kate Sisk and Luke Cuccurullo have been struggling during their marriage on Season 8 of Married at First Sight. After telling Kate that he felt "repulsed" and "dead inside" when he kissed her on their honeymoon, Luke seemingly continued his attacks against Kate when he told Dr. Pepper that Kate might have a drinking problem, as shown in a teaser clip for Tuesday's episode of Married at First Sight.
"Uh-oh! Seems like a few of the couples aren't on the same page," the Instagram page for Lifetime's series wrote on Friday.
"He's worried you're drinking too much," Dr. Pepper tells Kate. "She's kind of using it as a coping mechanism," Luke adds.
Kate was stunned by Luke's accusation, especially since he's provided her with some of the alcohol. "I'm completely shocked. In fact, he's given me some of the alcohol that I'm drinking. It doesn't make sense."
On last week's episode, Luke and Kate invited some of their friends over to celebrate their new home. At first, Kate was uncomfortable with all the people but slowly opened up.
"I think Kate is just a little nervous kind of meeting new people," Luke said on last week's episode. "She's always feeling like she's being judged. I just want to relax her and let her know everyone is going to love her no matter what."
Even more, Luke kissed Kate, which was a big step for them. "It just felt like a natural kiss, because I feel like maybe he actually likes me," she said.
Previously, Pastor Cal slammed Luke for his comments about Kate. "I think he was expressing how he really felt, but maturity says, 'In spite of how I feel, I have this responsibility to this person who is my spouse. And my responsibility is to make sure I protect your feelings. I'm not going to say something to you that is just going to completely destroy you,'" the pastor told host Jamie Otis on the Unfiltered after show.
Their marriage can be saved, but Luke will have to do most of the work. "You only fail when you quit, so I'm always hopeful. I'm always optimistic about marriage. I believe they can turn things around, but the ball is in his court," Pastor Cal said.
To find out what happens next, don't miss Season 8 of Married at First Sight when it returns Tuesday at 9 p.m. ET on Lifetime.