Married at First Sight star Kate Sisk is trying everything she can to make her relationship with Luke Cuccurullo work, but she might be the only one convinced that there's a future for her and Luke. So is the couple still together?
Both of the stars have private Instagram accounts, so it's impossible to tell through social media whether the stars are still trying to make things work. However, based on the way the season has played out, things aren't looking good. Spoiler account @MAFSfan on Twitter wrote on November 19 that a "source" said one couple was no longer an item, and the page could have been talking about Luke and Kate.
For instance, the conversation didn't go well when Kate talked to Luke's mom. When she met his parents and sat down with his mother for insight, Kate got the feeling like her new mother-in-law already felt like her relationship was doomed.
"I'm so committed to this marriage I was it to work more than anything but I feel like his mom was just checking in on like how I would feel after this ends," Kate says in a sneak peek clip of Tuesday's episode, posted to the Married at First Sight's Instagram page. "So a lot of her questions are just like what's the worst-case and best-case scenario, what if it doesn't work out and all these questions. It's just like, OK, no one thinks this is going to work out so why are we even talking about this anymore."
Luke's mother notes that Kate looks like she's sad. "I didn't come in with any expectations but if I did this would not have met them," Kate replies. "I just feel like I'm putting in everything that I can and this is me and, I mean… there's nothing really else that I can do."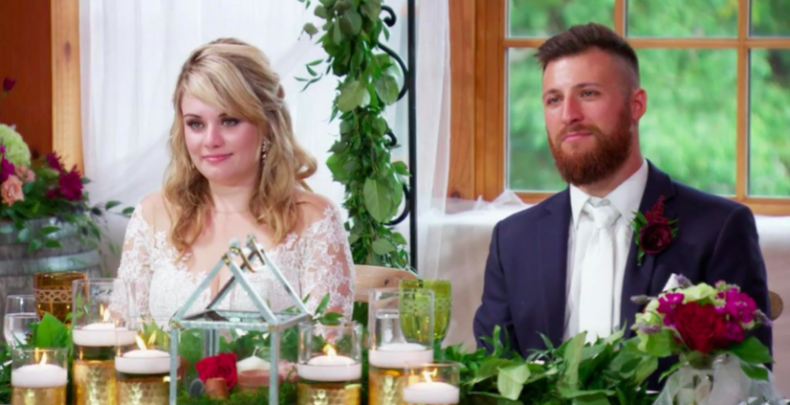 Previously, Luke told Kate that he was "repulsed" and felt "dead inside" when Kate tried to kiss him on their honeymoon. He later accused her of potentially having a drinking problem, but then backed off when he was asked about it by marriage expert Dr. Pepper.
The tension between the two started in the beginning when Luke raised his eyes the moment he saw Kate walk down the aisle. It continued on their honeymoon. "The one thing that is bothering me is that you haven't kissed me yet," Kate said. "Me and Luke don't have the same level of affection. I don't know what to do."
When Kate tried to make a move, Luke rebuffed her affections. Pastor Cal was not impressed with Luke's reaction and threatened to kick him off the show. "In all of my time on Married at First Sight and in all the couples I've dealt with and counseled, I've never heard anyone say something so vile to their spouse. It's abusive, it's rude, it's uncalled for, and we cannot allow this," Pastor Cal told the Lifetime cameras in a confessional. "We cannot stand for something this violent!"
"If you can't turn it around, respect this woman, be the man I'm expecting you to be, then you need to get the heck up out of here," the pastor added.
Luke didn't exactly listen to Pastor Cal, telling a member of production that Kate was drinking too much. "She's kind of using it as a coping mechanism," Luke told Dr. Pepper.
Kate was shocked and asked Luke for an example, especially since he's given her wine in the past. "I'm completely shocked. In fact, he's given me some of the alcohol that I'm drinking. It doesn't make sense," she said.
Luke later said he was more sensitive to drinking than most because one of his friends died from a drinking and driving accident. Kate believed his excuse, though her friends weren't as forgiving.
To find out what happens next, don't miss Married at First Sight when it airs Tuesday at 9 p.m. ET on Lifetime.