Is 'Married At First Sight' Couple Kate and Luke Still Together? Spoilers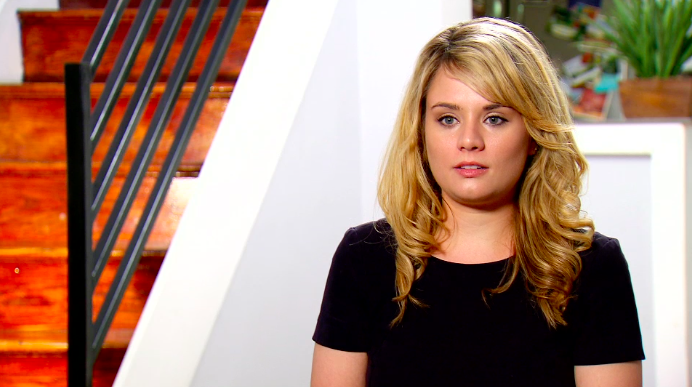 It probably isn't a surprise to most people, but Married at First Sight couple Kate Sisk and Luke Cuccurullo might not be together anymore. So far, the two have had a tumultuous relationship during Season 8. A leaked picture from the reunion seems to prove that Kate and Luke are no longer married and likely opted for divorce.
The picture was shared by the Married at First Sight fan account MAFSFan. It's very clearly a picture from the reunion, with host Kevin Fraiser returning to his gig. All the couples are there: AJ and Stephanie, Will and Jasmine, Kristine and Keith and, of course, Kate and Luke. The only difference is that Luke and Kate are nowhere near each other in the photo while all the other couples are embracing their partner.
"Another reunion photo has been leaked!" the fan account wrote on Monday. "Glad to see Kevin Frasier back hosting. It's been awhile!! Interesting arm placements from some of the guys. Notice Luke and Kate are far apart from each other." Click here to see the leaked photo.
While it seems like Kate and Luke probably decided to get divorced, it's currently unconfirmed if they're still together. Both stars have private Instagram accounts, so it's difficult to ascertain from social media if they are still following through with their marriage.
As far as Season 8 of the experiment is concerned, Married at First Sight is nearing week four of the couples being married. Not surprisingly, things aren't going well for Kate and Luke, with marriage expert Dr. Pepper Swartz saying the relationship is negatively affected Kate's personality. It's not healthy.
"What really bothers me and what I really have to see a change in, is that the Kate I met when going through the interview process was a bubbly, happy, open person," Dr. Pepper said on Tuesday's Unfiltered after show, hosted by Season 1 star Jamie Otis. "And Kate has become sort of—over these days—less of the Kate I met."
Kate is trying everything she can do to make her marriage with Luke work, but it seems like it might be more trouble than it's worth. "To me, a marriage should make you happy!" Dr. Pepper said. "It should bring out the best in you and make you feel better about yourself! And that hasn't been happening, so I find that very discouraging."
Kate admitted things weren't easy. "I'll have a breakthrough and then I'll talk to my friends and they'll bring me back down to reality, like, 'Hey, I know you feel you had a breakthrough, but you only went from the bottom to maybe the first step and you have so much longer to go,'" Kate she said.
Even though things aren't easy, she's not willing to give up. "I made a commitment, and he says he wants to try. So I can't just give up because it's my husband! So, I have to just keep going," she said.
With all the odds seemingly against them, Kate still wants to make their relationship work. "He says he wants this to work and I have to have some form of trust that if he says he wants to continue and work on this marriage, then I want to do that too," Kate said. "I hope Luke can open up and be more clear and honest and I can understand him."
To find out what happens next, don't miss Married at First Sight when it airs Tuesday at 9 p.m. ET on Lifetime.