'Married at First Sight' Season 8 Spoilers: Will Kate Divorce Luke?
Season 8 of Married at First Sight has not been easy for Kate Sisk. From the beginning of their union, Luke Cuccurullo made it abundantly clear he was not attracted to Kate, telling her on their honeymoon he felt repulsed when they kissed and then went behind her back to producers and accused her of having a drinking problem.
So are Kate and Luke still married or did they divorce? Spoiler sites haven't revealed that Luke and Kate have split, though fan account MAFSFan previously tweeted that one couple is no longer together. Both Kate and Luke have their Instagram pages set to private, so it's impossible to infer about the state of their relationship from social media.
In a sneak peek of Tuesday's episode exclusively obtained by Newsweek, the couples were asked to rate each other. What Kate rated herself shocked everyone—even Luke.
Kate has been seemingly doing everything she can to save her marriage with Luke but she doesn't think she's doing enough. On the count of three marriage expert, Dr. Pepper Swartz has Kate and Luke unveil their ratings. Luke gave himself a 7.5 and Kate rated herself a 6.5. All the other couples, including Dr. Pepper and Luke, let out a collective "aw" when Kate showed her mark.
"I think you're doing better than that," Luke says to Kate, who puts her head down as she fights back tears.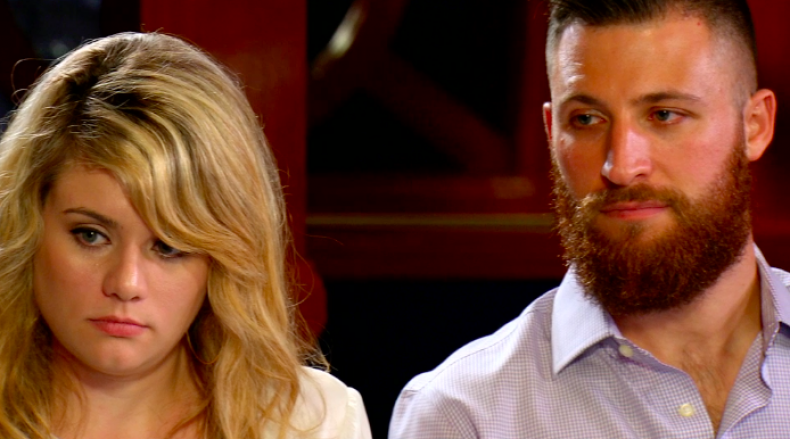 "I didn't expect it to be 100 percent perfect but it's very shocking to me that Kate rated herself so low," Luke reveals. "I guess I thought she thought higher of herself and our marriage. I can't read her mind."
"We've talked about this already. He knows where I'm at," Kate tells Luke. He responds with a shocked, "No," and shakes his head. "I don't know how you think about yourself."
"This is, like, how I feel about it," Kate confirms. "OK," Luke says in recognition.
In a confessional with the Lifetime cameras, Kate revealed that Luke rated himself too high. "I gave myself a 6.5 as a spouse because I feel like I'm trying but I'm not getting results," she says.
The show cuts back three weeks ago where Kate told Luke she was worried about him not being attracted to her. It then shows the moment where Kate recalled their first kiss where Luke told her he felt "dead inside." The last flashback is when Dr. Pepper confronted Luke about telling producers Kate might have a drinking problem and Luke's mom essentially preparing Kate for the marriage to fail.
"If it's not getting traction the way you want, it doesn't mean you're not doing a good job as individuals. You're doing your very best," Dr. Pepper says. "My sense is you probably are way higher on what you've done."