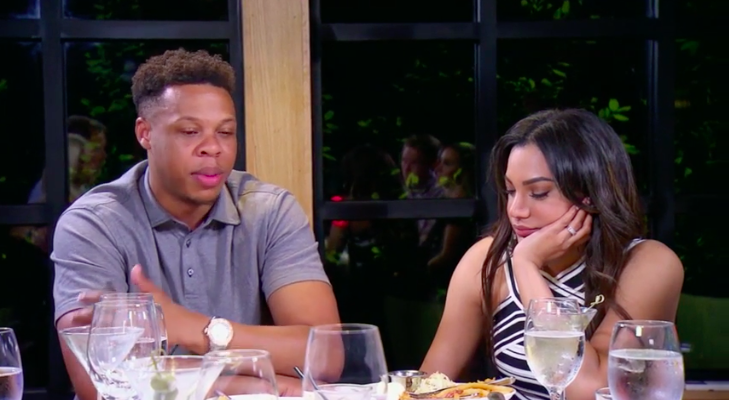 One of the biggest shocks of Married at First Sight Season 7 came in the beginning when Mia Bally was arrested en route to her honeymoon with Tristan Thompson. Rumors swirled about Mia, with her largely being accused of a liar by followers of the show. After weeks of keeping silent, Mia made her Instagram account public and addressed the arrest for the first time in a public forum.
According to earlier reports, Bally was arrested for allegedly stalking her ex-boyfriend, Jared Evans, and on credit fraud charges. She denied the allegations against her.
"There was NO stalking in Louisiana or fraud, despite the false accusatory statements or negative social media," Bally wrote on Instagram last week. "NOW, I understand why news is called fake or NOT 100% real. NOW, I understand anyone can file a false report and lie to the police. NOW, I understand that there are wrongfully accused citizens in jail and NOW I know the legal process is difficult to understand/navigate. I have a voice and I'm spreading awareness for anyone who has been threatened, belittled, subject to immoral use of money/ power tactics, mistreated, silenced, or intimidated by overt use of wealth, status, or small town politics."
She followed up her first post with another message about her innocence Friday, saying "vicious lies" were spread about her.
"Here is the truth: It is hard being silent and thank you for believing in me. I've been struggling with what has happened since these vicious lies were widely spread about me and went against every fiber of my character of who I am the last 30 years. At the time these false allegations came out, I was blindsided, confused and unprepared on how to respond to something that was completely fabricated and incredibly hurtful in a very public shaming way, which was why I was unfortunately dubbed a liar," she wrote. "I was shocked and scared that there are people that would do this, and I wondered, what was their motivation?"
She had a hard time dealing with the negative backlash. "There were days were I couldn't get out of bed, didn't see hope, felt despair, betrayed, taken advantage of and used, BUT in those hard times, I found my will to fight, my will to not live in fear, my will to not be silenced," she said.
To find out what couples decided to stay together at the end of the experiment, don't miss the penultimate episode of Season 7 of Married at First Sight when it airs at 9 p.m. ET on Lifetime.