'Married at First Sight' Cheating Scandal? Spoilers: Tristan Accuses Mia of Lying After Arrest
Things aren't going too well for Mia Bally and Tristan Thompson on Season 7 of Married at First Sight. After their happy wedding night, things went downward, with Bally being arrested and then lying to Thompson about it. She eventually came clean, but the trust was broken. That's why Thompson exploded on Tuesday's episode of the Lifetime reality show when his best friend sent him a screenshot of Bally's dating profile.
"The trust is a little broken because she lied but it's getting better," Thompson said before he found out about the dating app. "I said to her, 'In order for me to fall completely in love with you, I have to completely trust you and that's the little cloud over our marriage. Once the trust is broken—and yes I've forgiven you for it—but now it's fixing it."
Thompson felt betrayed when he saw his wife still had a profile on a dating app. "This entire marriage I feel like I've been completely honest with Mia and I told her just to give me the truth and it seems like she's gone out of her way to hide things from me," Thompson said in a confessional. "I honestly don't know what to feel or what to believe right now. I thought we were done with all the secrets and lies."
When he confronted his wife, and she asked if it was deactivated, he screamed back, "I don't know because I don't know you!"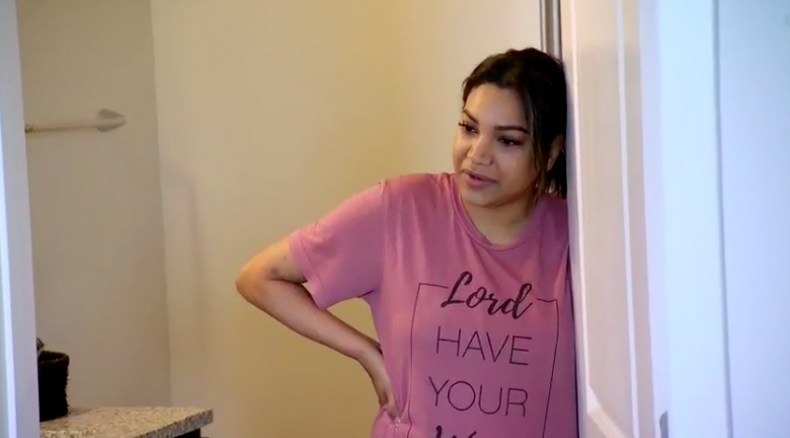 He continued: "I don't trust you. I don't. I said that consistently. There's a cloud that's hovering around that's stopping me from falling in love with you and I said it's because of the broken trust because you lied to me and then this now too? I'm done."
"Mia's telling me that her profile isn't active and she deleted the app but I honestly don't know if I can believe that," he said on the side. "She's lied to me before so how do I know that she's not lying to me now?
Thompson was seemingly done with the relationship. "Because of everything that has transpired these last three weeks between me and Mia, I felt there were times where I was falling in love with her but now I just don't know," he told the Lifetime cameras in a confessional. "I feel everything with her right now is a lie and I don't know how to trust her."
As for Bally, she wasn't happy with Thompson's reaction. "I didn't get married at first sight to be with someone who doesn't trust me and doesn't love me," she said. "I got married at first sight to get into arguments but still come back to each other and right now Tristan's not showing me that. He's shutting me out and I don't know what the means for our marriage."