Why 'Married at First Sight' Bride Mia Bally Was Arrested After Tristan Thompson Wedding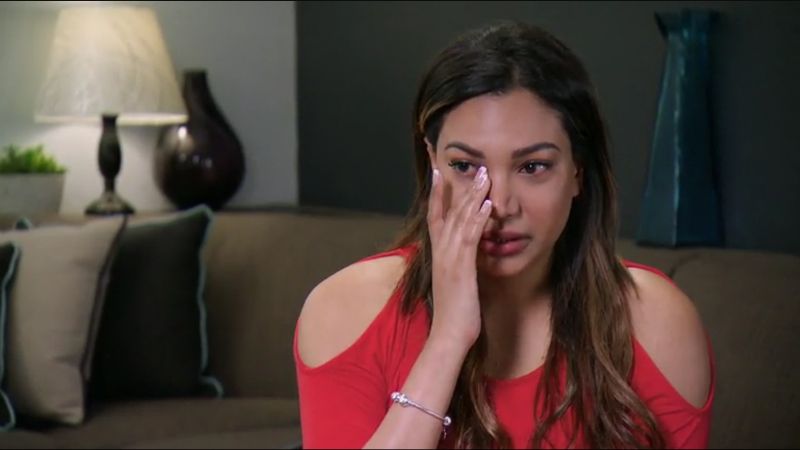 Married at First Sight bride Mia Bally shocked husband Tristan Thompson (not the basketball player who cheated on Khloé Kardashian) when she was detained at the airport. Thompson and Bally were supposed to be boarding a plane to Cancun for their honeymoon but were removed so authorities could question Bally. Thompson was left pacing the airport, wondering what his new bride had done. Thanks to Monsters and Critics, who did some sleuthing, we now know.
Authorities from the Texas Department of Public Safety detained Bally in March, saying she was a fugitive. The Ouachita Parish Sheriff's Office in Louisiana had put out a felony warrant for her arrest on three stalking charges and one charge of unauthorized use of an access card. After being detained at the airport, she was taken to Tarrant County Jail and had her mug shot taken. See it here. Ouachita Parish did not want to extradite Bally, whose real name is Ameea Janice Bally, and she was released.
Bally's charges are related to her ex-boyfriend, Jared Evans, according to police reports. They broke up in 2016, and filed two complaints with police in Monroe, Louisiana, in 2017 and two more in 2018, not long before she said "I do" to Thompson on Married at First Sight.
In a report from June 2017, Evans claimed Bally kept showing up at his home, job and "wouldn't leave him alone." He filed another report two months later, claiming Bally was incessantly calling, texting and showing up at his home.
In January, he filed two more complaints against Bally after she contacted him via Facebook saying she ordered a Christmas gift. Evans reportedly received a receipt from Amazon that totaled more than $1,400. She used his account to buy an iPhoneX and ordered two protection plans.
He filed the next complaint after she messaged him once more, saying they had "fun times" in the past and she wished "we could go back." According to the police report, Evans only reported a handful of the alleged stalking.
"She has changed her Facebook name, continuously texted, called and electronically contacted him since ending the relationship," the police report read. "Investigators are pursuing this warrant based on the evidence information obtained for the arrest of Bally." A warrant for her arrest was issued on February 6, 2018. She was detained the following month.
The arrest might come as a shock to some fans. Bally presented herself as a woman of God who attends a weekly bible study. She didn't kiss her husband on their wedding day, and her father told Thompson he would not sleep with Bally on their wedding night. Thompson, who made it clear he was physically attracted to his new bride, respected the wishes of his new wife and father-in-law. However, as shown in the sneak peek for Tuesday's episode, he was not happy to find out about Bally's past.
Married at First Sight airs on Tuesdays at 9 p.m. ET on Lifetime.