'Married at First Sight' Episode 8 Recap: Mindy's Friends Grill Zach
The couples of Married at First Sight Season 10 are settling into their new lives as husband and wives, but things still aren't going so smooth for some members of the cast.
The Lifetime reality series resumed with Episode 8 on Wednesday night and picked up with couples entering their 13th day of marriage. Most of them were still getting adjusted to living with their new spouses in the same apartment—although not everyone was sleeping in the same bedroom just yet—and some bonds seemed to be solidified after couples got to spend time with each other's friends and family members.
A few major takeaways for each couple in the Episode 8 recap are below.
Katie Conrad and Derek Sherman
After hearing Derek claim he won't be in love with her after eight weeks of marriage, Katie started the episode feeling unsure of their future. During a lunch meeting with her mom, Katie confessed that she's afraid of falling in love with Derek if he doesn't feeling the same—especially considering the fact that before joining the show, she turned down another man who claimed to be in love with her. That's not the only problem she's facing though. She said Derek has gotten way too comfortable with notifying her every time he needs to use the bathroom. These announcements are killing the romance, and she can't handle it.
Meanwhile, Derek's dad was nervous that his son may have dropped the ball by telling Katie he won't be able to love her in such short amount of time. "It's work. You really have to care about somebody, and you really have to commit to it and you have to find ways to let them known that they're a priority as you take this journey," he told Derek.
Later in the episode, Derek assured Katie he is in it for the long haul, which pleased her.
Jessica Studer and Austin Hurd
Over at the Hurd household, things are going swimmingly. Despite learning that Austin, a network engineer, makes a significantly lower salary than her, Jessica, a nurse, is still confident in their relationship. What Austin may be lacking in pay, he makes up for with his care for their home. Not only has he stepped up to meet Jessica's cleaning standards, he's proud to have dinner on the table for her when she gets home from a long day of work.
"I feel like I'm learning something small about her every single day," Austin said. "I do like that she works hard, and it's important to me that I support her in those times to show that I'm not expecting her to do everything. We're a team now, and it's something that we both wanted."
During a picnic with the other wives, Jessica gushed over how smoothly her marriage was going and continued to praise Austin when she met his friends at the couple's housewarming party.
Mindy Shiben and Zach Justice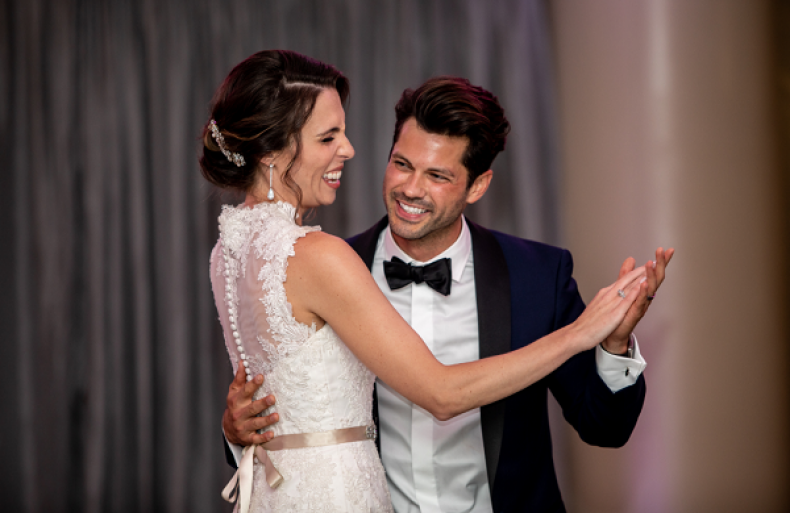 At the wives' picnic, Mindy revealed she and Zach still weren't living together in their designated apartment while, on the other side of town, Zach explained to the husbands that he needed the space to get to know his wife as a friend before he could commit to living with her.
However, he did take a step in the right direction when he met with Mindy at a dog park, surprisingly wearing his wedding ring. Although she confessed her desire to have him move into the apartment, they settled with an agreement to make a better effort of hanging out.
"I'm trying to be optimistic with moving at this slower pace—the baby steps that he's comfortable with—but I do need more from Zach. I can't be committed alone. So it's like show me how you are invested at all. Some things have gotta change," Mindy said in a video testimonial.
Later when they bring their friends together for a group hangout, Mindy's gal pals grilled Zach over his lagging commitment to the process. They didn't hold back, saying how much they didn't trust him either. They berated him again when he arrived at the apartment for the hangout, at which time Mindy asked her friends to back off, sensing the escalating tension in the room.
Meka Jones and Michael Watson
Although they got off to a rocky start, Meka and Michael are in a much better place in Episode 8. They've gone shopping for spices together, decorated their new home and have even decided to wear their wedding rings again.
While catching up with the rest of the wives, Meka admitted moving in together may have been the best decision the couple has made thus far. "Us moving in was good because it was like a fresh start, and we literally had nowhere to run. We had to talk to each other. We had to figure it out. So just being able to get there was good. I still think we have a long way to go but I think we've come a long way as well," she said.
Michael is keen on keeping the marriage afloat as well. During the couple's housewarming party, he took Meka's mother aside and asked for her advice on the many things he can do to keep Meka pleased.
Taylor Dunklin and Brandon Reid
The Reids have definitely seen better days. Although they are committed to living together, Brandon is still sleeping in the second bedroom, and it seems that's where he'll be staying well after Episode 8.
Although he's apologized for his honeymoon outburst toward Taylor and the Married at First Sight production team, he still had plenty of explaining to do when the couple's families arrived at the apartment for a housewarming gathering. Taylor's friends admitted to feeling conflicted about him and claimed he acted like two different people, almost like Dr. Jekyll and Mr. Hyde, while Brandon's mother insisted he was learning from his temperamental behavior.
Brandon was very apologetic. "I lost my cool, and I said some things to her that I shouldn't've said to her. I've apologized multiple times. I also apologized to the other couples. I understand what I did was wrong, and I'm ashamed and I'm not happy for my behavior and how I treated my wife," he said during a testimonial.
However, the tension between Brandon and Taylor remained after their guests departed.
Married at First Sight airs on Lifetime on Wednesday nights at 8 p.m. ET.