'Married at First Sight' Season 10 Recap: Meka and Michael Make Up, While Taylor and Brandon's Marriage Implodes on Episode 6
Couples made strides in their relationship as they enjoyed the final moments of their honeymoon on the latest episode of Married at First Sight—but not everyone left paradise on good terms with their significant other.
Meka Jones and Michael Watson Panamanian honeymoon started out on the rocks. However, the couple agreed to work harder towards improving their marriage and friendship on last week's episode of the Lifetime reality. The newlyweds made good on their promise during Season 10, episode 6, which aired on Wednesday, and continued to bond and build a friendship as opposed to focusing on what the relationship was lacking.
As for the rest of their Season 10 castmates—Katie Conrad, Derek Sherman, Taylor Dunklin, Brandon Reid, Jessica Studer, Austin Herd, Mindy Shiben and Zach Justice—they also enjoyed their last days getting to know each other in Panama, before it was time to head back to their new reality as married folks.
Returning home was a big topic for many of the couples as they expressed some of their fears of having to adjust their everyday lives with the lives of their new spouses, whom they only met barely a week ago. But overall, Day 5 and Day 6 of marriage were smooth sailing—that is, until the very end of the trip when one cast member threw an unexpected and explosive fit.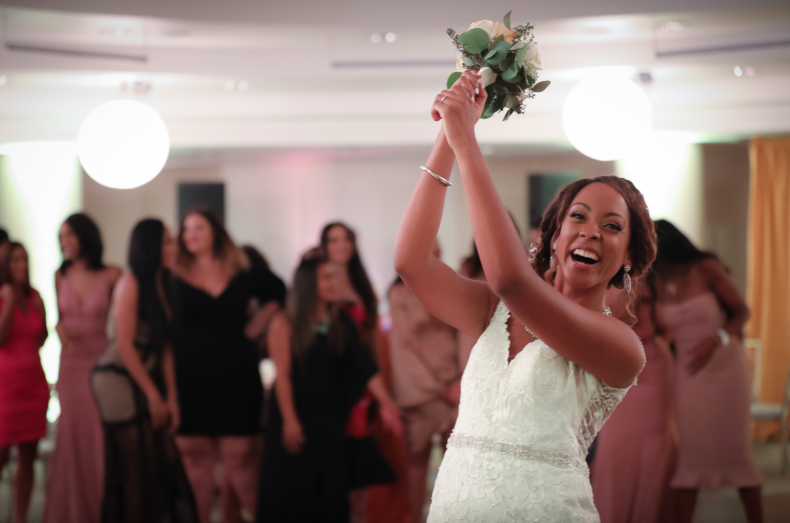 Read on for a quick recap of what each couple experienced on the latest episode of Married at First Sight below.
Katie and Derek
So far on the series, Katie and Derek seem the most likely to survive the eight-week experiment that is Married at First Sight. Since the moment they first met (when Katie first walked down the aisle), the pair have basically been two peas in a pod. They continue to learn about their many similarities and their differences on Day 5. And while Derek admits in his individual confessional video that he isn't quite yet ready to say he is in love with Katie, his feelings for her are certainly growing. Following a fun day in the sun with their castmates during a catamaran excursion, Katie decides to do something special for Derek by taking him to see the Panama Canal. It is there where the couple discuss their future and some problems they might encounter when they return home—such as whether or not Katie's dog can sleep in the bed with them, and how they will best go about giving each other their own space.
Jessica and Austin
The couple still have not revealed to their castmates that they've been intimate with each other; even at the beach, Austin doesn't break when the rest of the husbands pressure him to come clean about the consummation of his marriage. It's clear they've found their love language: privacy and humor. As much fun as Jessica and Austin have had on their honeymoon, they both are ready to get back to the real world and see how well they manage being married once their daily lives are fully intertwined back home in Washington D.C. During a day trip to various historical sites around Panama City, they talk about their futures, the possibility of children, and whether or not religion will play a factor in the way they raise their kids.
Meka and Michael
While Meka and Michael may have started their honeymoon sleeping in separate rooms, they certainly didn't end the trip that way. Instead of going with the rest of the gang on the catamaran excursion, the pair decide to spend Day 5 together sightseeing around town and finally really invest some time getting to know one another. As luck would have it, they learn they have a lot more in common than they thought and finally manage to set the foundation for a solid friendship and their marriage. Meka even admits during her individual testimonial that she is feeling hopeful about her future with Michael. And while she lays down some pretty tough guidelines for how she expects to live when they return home to D.C., Michael says in his testimonial that he is fine with following her lead.
Mindy and Zach
Although it seems as though Mindy and Zach were headed to greener pastures after he kissed her for the first time on episode 5, Zach's lack of attraction towards his wife prevents them from getting any closer in episode 6. "I've never been in a position where I've had to allow attraction to evolve or search for an attraction," Zach tells the other husbands during their catamaran outing.
"Right now we are establishing a friendship. We are friends— that's kinda where we sit—versus just forcing intimacy and forcing anything outside of that because it's not gonna work. Searching for an attraction is just kinda where it's at, which is an interesting position to be in because it's new for me," he continues.
Tension only continues to rise for the newlyweds when Mindy points out that Zach hasn't been wearing his wedding ring, causing him to admit that he is struggling and needs her help to him become more attracted to her. Mindy spends the final night of their honeymoon complaining to Married at First Sight expert and psychotherapist Dr. Vivian Coles about her problems with Zach.
Taylor and Brandon
Things seem to be going good for Taylor and Brandon on Day 5 and Day 6 of their honeymoon. Brandon even manages to strengthen his communication with Taylor by addressing his concerns regarding her constant social media use. She expresses that while she does enjoy sharing her life on Instagram, it is mainly something she uses to keep up with her friends. She isn't on the app merely for attention and influencer fame.
However, their relationship takes a turn for the worst in the final minutes of the episode. Aggravated and aggressive, Brandon becomes confrontational with the camera crew and producers when they refuse to stop filming him. Taylor tries to calm him down, but her efforts backfire when she tells him that she doesn't want to be married to the "difficult person you're being on camera," but rather she'd "like to be married to the sweet kind Brandon."
"All of it goes in his ear and most of it comes out except for the, 'I don't wanna be married to the difficult Brandon. So he takes that and runs with it,'" Taylor explains in her confessional. "He responds like, 'Oh you don't want to be married to me?' He takes off his ring. He throws it and says, 'We don't have to be in this marriage,' and he leaves."
Married at First Sight airs on Lifetime on Wednesdays at 9 p.m. ET.