This 'Married at First Sight' Cast Member Has a Big Surprise For His Wife in Season 11 Decision Day Sneak Peek
Never in the history of Married at First Sight has there been a couple more fitting than Amelia and Bennett. From the moment they laid eyes on each other, the quirky couple seemed like a perfect match. Even after enduring 16 weeks of marriage, coronavirus lockdown restrictions together and facing the hard decision to uproot their little family for the sake of Amelia's doctor residency, the pair still has the strongest relationship out of the Season 11 cast.
Between all the displays of affection, their eclectic sense of style and penchant for making up random songs about any and everything—and let's not forget the sweet gesture Bennett made to declare his love for his wife—it's so very obvious their head-over-heels for each other. Not a single fan of the show or relationship experts Dr. Pepper Schwartz, Dr. Viviana Coles and Pastor Calvin Robertson would expect them to opt for divorce at their Decision Day meeting on the upcoming episode set to air on Lifetime on Wednesday.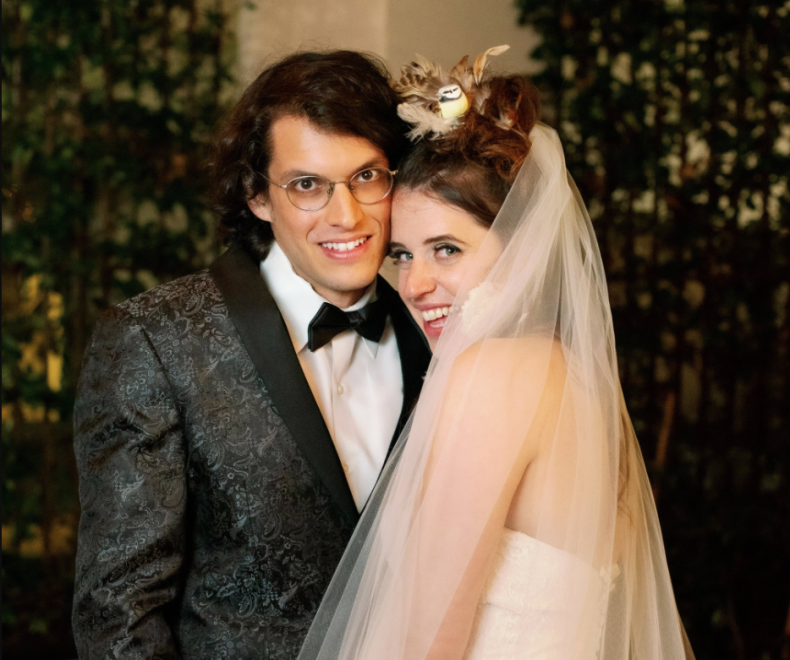 However, just moments before Bennett has to proclaim whether or not he's choosing to remain in his marriage to Amelia he throws an unexpected curveball in the Newsweek exclusive episode 16 sneak peek.
"I have a little surprise for you," Bennett says.
Anxiety flashes all across the experts and Amelia's face as they nervously await whatever it is Bennett has in store for his wife. But the worries that his surprise may be pertaining to divorce start to ease when he suddenly begins loosening his pants. Now everyone's simply curious about what the surprise could possibly be.
"Stay with me. Stay with me," Bennett says before peeling down a portion of his yellow pants and revealing the big surprise.
Turns out, It's a heart-shaped tattoo right above his butt. "Oh my gosh!" she shrieks in laughter.
"It's a tattoo with her initials!" Dr. Viviana smiles.
Amelia burst into giggles astonished by Bennett's new ink while the experts praise him for his daring gesture. "You're a beast," Pastor Cal says.
"So can you make it official?" Dr. Viviana asks, returning the discussion back to the topic at hand.
Is Amelia in or is he out? From the looks of that permanent tattoo, it seems Bennett is in it for the long haul.
Married at First Sight airs on Lifetime on Wednesday at 8 p.m. ET.