Meet the Cast of 'Married at First Sight' Season 12
According to the age-old nursery rhyme, first comes love, then comes marriage. But for the new cast members of Married at First Sight, they'll be exchanging vows long before they fall in love—that is, if they ever actually do exchange their vows.
The 12th season of the Lifetime reality show is set to premiere on Wednesday, and this time around, the series will follow hopeless romantics who are ready for marriage in Atlanta.
The setup is the same as usual: All 10 of the individuals participating in the show's experiment are vetted and matched by the series' relationship experts, Pastor Calvin Roberson, Dr. Pepper Schwartz and Dr. Viviana Coles. However, they won't discover who their bride or groom is until they reach the altar on their wedding day. Then, over the course of several weeks—during which each couple will enjoy a honeymoon, move in together and face the daily realities of marriage—they'll decide whether or not they want to remain together or divorce on Decision Day.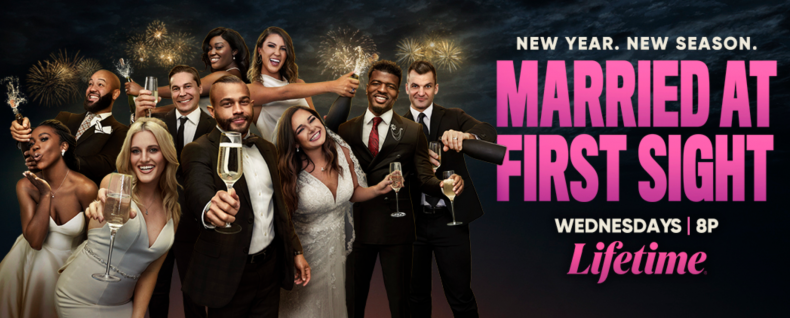 Season 12 will maybe end up being the most explosive season yet, thanks to an energetic new cast, which includes one groom over the age of 40—a first for the MAFS franchise—and another who has already been married and divorced. From the looks of the season 12 trailer (seen up above), fans should expect some particularly rowdy moments, including a potential brawl between two castmates, as well as a pregnancy that pops up much sooner than one couple may have been hoping for.
So who exactly are the new lovebirds hoping to make their marriages stick? Get to know a little bit more about each of them below, before the start of Married at First Sight Season 12, which kicks off with a three-hour premiere on Lifetime on Wednesday at 8 p.m. ET.
Briana and Vincent
Vincent, a 27-year-old auto broker, is ready to try his hand at love again after having one previous marriage proposal shot down. This time around, he's relying on the MAFS experts to help him find the perfect partner who will embrace his Dominican heritage. For his bride, the experts have chosen Briana, a 28-year-old engineer who is ready to find a partner that she can build an empire with.
Clara and Ryan
At 27 years old, Clara, a flight attendant, is ready to officially settle down and put her dating days behind her. She's been paired with 29-year-old Ryan, a project manager that desires love and a marriage that lasts as long as his parents', who have been married for more than three decades.
Haley & Jacob
Jacob, 38, is a senior IT analyst who is completely over dating. He's ready to start a family and is hoping to have children soon. Meanwhile, Haley, a 28-year-old account executive, is just looking for someone she can trust. After having been burned by lovers in the past, the dog-lover and homeowner is putting her faith in the relationship experts, and hoping that her new husband is someone who can help her tear down her emotional walls and open up again.
Paige and Chris
Twenty-five-year-old accountant Paige already has the career of her dreams. She has her dream home, too—a house she purchased when she was just 22. Now she's ready for love and his desperate to break her family's "divorce curse" and be the first one to maintain a successful marriage. Meanwhile, Chris, a 27-year-old finance manager raised by pastor parents, has always known that marriage and a family full of kids were in the cards for him. To hear him tell it, his casting on the show was a surefire sign of his prayers being answered.
Virginia and Erik
After already having experienced the pangs of divorce, 34-year-old pilot Erik believes the MAFS experts have found him a partner who will be with him for a lifetime. Here's hoping that their choice for him, Virginia—a 26-year-old account coordinator who admittedly has a history of self-sabotaging relationships—is the woman who will stick.