'Married at First Sight' Season 12 Sneak Peek: Chris Hopes New Wife Won't Just Love His Success
The wedding bells are ringing for a few couples on Married at First Sight Season 12. On the upcoming second episode of the new season, three couples will make their way down the aisle and finally meet their spouses for the first time.
As exciting as a wedding day can be, it doesn't come without a bit of anxiety for some of the soon-to-be newlyweds. Just about everyone's hearts will be racing as they get closer and closer to meeting and marrying the people that MAFS relationship experts Pastor Cal Robinson, Dr. Pepper Schwartz and Dr. Viviana Coles have chosen for them—and that's especially true for Chris.
In a sneak peek exclusive to Newsweek (seen above), the usually confident husband-to-be starts to get pre-wedding jitters as he and his groomsmen get ready for his big day. He's been paired with Paige, a woman he's never met before, and he can't wait to get to know her.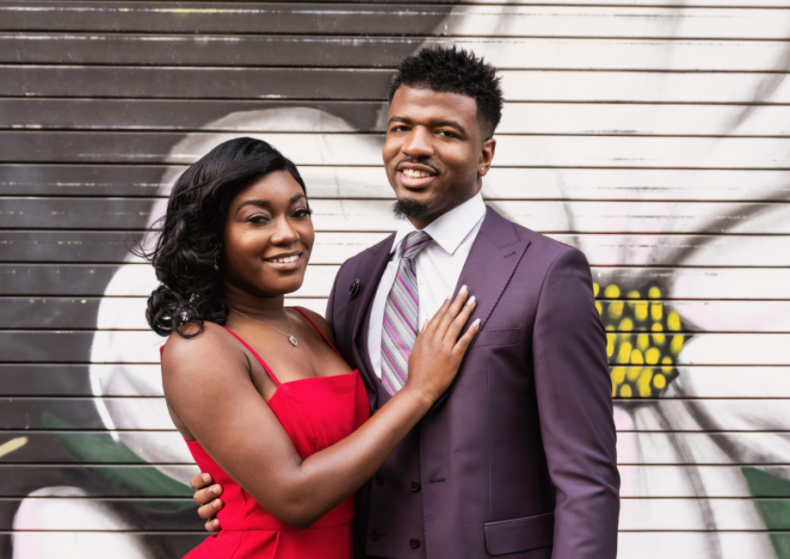 "The fact that I am about to get married has hit me. I'm excited. I'm ready. I need a time machine to help me fast-forward three, four hours. I'm ready to meet my future wife," Chris says in a confessional video.
Chris is hoping that the experts have paired him with the woman of his dreams, but he's just as worried about meeting her standards as well. While getting a haircut, he instructs his barber to make sure he's looking his absolute best, seeing as he's hoping to make the best first impression possible.
"I gotta have a major first impression, bro. I want my haircut to say, 'Hey, yo. I'm a meal. I got some swag,'" he jokes.
Of course, Chris also wants his wife to meet him at the altar while she's looking her absolute best—but appearances aren't necessarily what he's concerned about. Really, he wants to make sure his bride will accept him as the person that he is. While speaking to MAFS producers, Chris notes how important it is that the woman he marries is interested in him and not his success as a financial manager. It's a problem he's encountered with women in his past, he says, and he hopes he won't have to worry about it when it comes to his relationship with his stranger bride.
"Once I became successful, I started attracting a lot of women who were only interested in me for what I had to offer, not me as a person. And my prayer has been that the experts matched me with somebody that's going to love me for who I am on the inside. That's important for me," Chris says during a confessional.
Married at First Sight airs on Lifetime on Wednesday nights at 8 p.m. ET.