The honeymoon is officially over for the Season 12 cast of Married at First Sight and that's probably a good thing, considering all of the arguments and blowouts that occurred over the course of the cast's trip to Las Vegas.
After last week's particularly toxic group dinner, during which Chris nearly got into a fistfight with Vincent, the show will return on Wednesday with a fresh new episode. The drama will be nothing new, though, especially for Hayley and Jacob who are still struggling to connect despite Jacob's big revelation that they've consummated their relationship.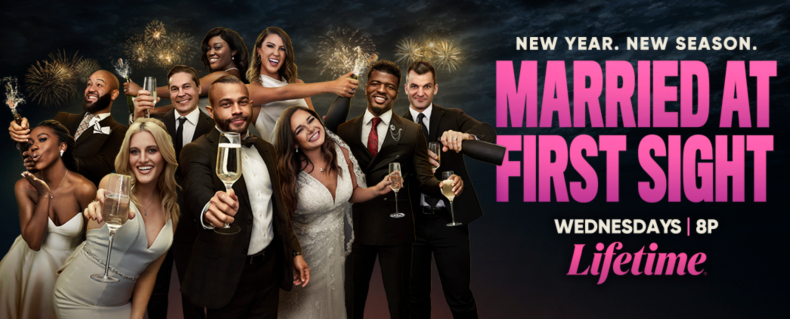 Hayley previously explained to her new husband that she needs more alone time, and it seems that her words have come back to bite her on the upcoming seventh episode of the season, because she's going to end up all by herself during their plane ride back to Atlanta.
In a Newsweek-exclusive sneak peek (above), Hayley reveals that she got into a big fight with Jacob on the final night of their honeymoon, which ended with him hurling a wild accusation at her.
"So I'm in the airport by myself. Yesterday was a really long day. I was texting with the girls and ended up meeting a couple of them for a drink. And I texted Jake to let him know and he kind of blew up on me and then accused me of having a boyfriend back home, which is freaking news to me," Hayley says during a self-recorded confessional. "Well, I thought that this morning we'd get up and maybe he would apologize, but he didn't. We got ready in silence."
Hayley admits that the pair has struggled so far to find their footing as a couple, but she's still shocked that her husband would accuse her of joining the show while already in a relationship.
"Just because we're not connecting right now, does that automatically [mean he can] assume that I have a boyfriend back home? Like, I just don't get it. I've been single for seven years. I didn't just pop one out of thin air right before I went on this show," she says.
Since Jacob doesn't seem to want to address the problem at hand or offer Hayley an apology, she says that she's taking matters into her own hands and is leaving Jacob to sit by himself during their flight back to Atlanta.
"I changed my seat. I'm in an exit row. I think we just need some time apart," Hayley says before sarcastically adding, "Can't wait to move in together. This should be really fun tonight."
Once the couples get back home from their honeymoon, it's straight to their new apartments.
Married at First Sight Season 12 airs on Lifetime on Wednesday nights at 8 p.m. ET.