Erik Starts a Fight With Virginia in 'Married at First Sight' Season 12 Sneak Peek
With one month of marriage behind them already, a lifetime commitment may not be in the cards for some of the couples appearing on Married at First Sight's 12th season. Although a few of them have managed to foster deep connections, it seems that even the littlest bump in the road can throw all of the newlyweds off course.
This is certainly true for Erik and Virginia, who have endured a ton of highs and lows throughout the season. Although they were head-over-heels for each other during their one-month anniversary celebration, the tension that's been steadily building between them will rise to the surface when the 12th episode of the season airs on Lifetime.
In a Newsweek-exclusive sneak peek (above), the couple nearly come to blows after Erik complains about the way that Virginia's dog behaves. Erik loves how well Virginia gets along with his own dog, but when it comes to her pup Rocky, the feelings just aren't the same.
"With my dog—he's such a good dog. I mean, he listens. I don't need leashes to go outside. He's not going to run away. There's none of that," Erik says while lying in bed with his wife and their animals.
Virginia replies by noting that her dog doesn't run away when he's off-leash either, which prompts Erik to ask: "Then why did he run away from me a week ago?"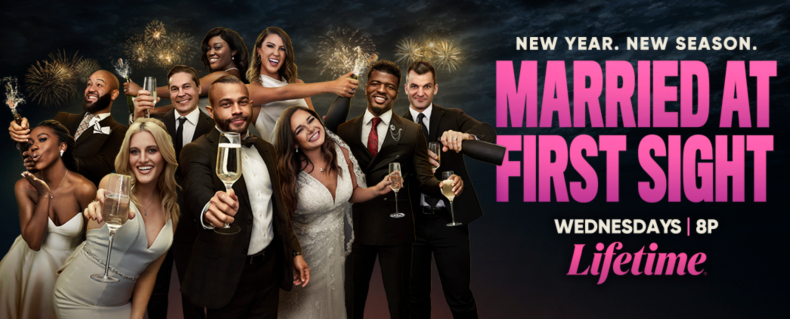 "I love Rocky. I love him to death, but he needs a certain amount of me being firm with him. You know, my military background and all of those kinds of things. I don't like his manners where he's biting people. I hate that. He's not where I would want to be as a dog," Erik explains.
Virginia is clearly annoyed by Erik's remarks and shoots back, "Well, he's not your dog."
Erik's response only continues to steer the conversation in the wrong direction. "Well, he's half-mine now, whether you like it or not," he says. "Unless you wanna end this right now."
Visibly frustrated, Virginia decides to get up out of the bed and put an end to the conversation before it escalates even further.
"I'm over this, to be honest. Like, bringing up s**t is only going to cause a fight," she says.
Speaking with producers, Erik says he doesn't understand why Virginia is so upset.
"I have no clue what's going on right now. I mean, it's just a dog," he says. "I don't want this to affect our relationship and I feel like she's freaking out right now."
Meanwhile, Virginia takes her dog outside and begins to break down. When producers ask her about the situation, she explains how much her dog means to her and that Erik already knows Rocky is a sensitive subject.
"Like, I was super-depressed when I got Rocky. And he saved me, and that's why we're so close. And I've told [Erik] that," Virginia tells producers. "I just don't want to do any of this right now. We had a huge fight last night. We're not in a good place at all."
Producers are shocked to hear that the couple had a fight the previous night and press for more details, which leads Virginia to reveal that they had it out at a bar.
"Honestly, at this exact moment, I want to run—from him, everything. I'm just so f**king over all of it. Truly I am," she says.
Married at First Sight airs on Lifetime on Wednesday nights at 8 p.m. ET.