Virginia and Erik Clash When Defining Marriage in 'Married at First Sight' Season 12 Sneak Peek
The couples of Married at First Sight Season 12 have been together for nearly two months now, and some of them are finally starting to set boundaries and standards for their unions. The only problem is that some people are struggling to see eye-to-eye when it comes to some of the basics.
In the upcoming episode of the Lifetime reality series, set to air on Wednesday, Virginia and Erik will try to define the parameters of their marriage during a counseling session with MAFS relationship expert Dr. Pepper Schwartz. And just as the couple has clashed over other aspects of their marriage—like how they discipline their dogs, how often they go out, Virginia's friendships with other men and the way Erik constantly travels for work—they clash over this simple exercise, too.
In a Newsweek-exclusive sneak peek of episode 14 (above), Dr. Pepper has the couple rehash their concept of family and marriage and how their own family experiences have shaped their ideas of what a marriage should be.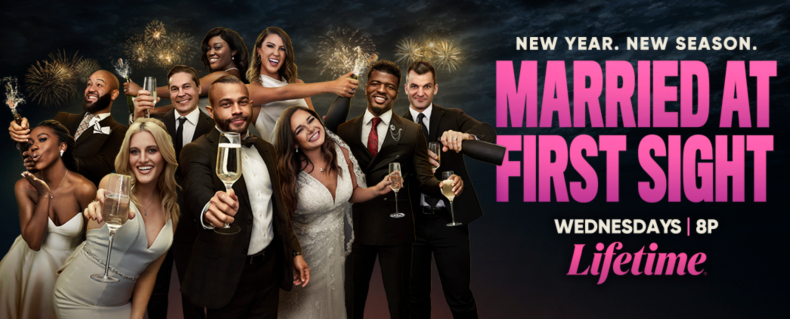 "We're just different in how we view [marriage], I guess. I don't want him to feel like we have to just fit into this cookie-cutter mold of marriage. Marriage can be however we define it," Virginia says in the clip.
Erik agrees that "every marriage is unique," and he admits that he and Virginia will have to figure out their own way to make their marriage a successful one. However, he believes that every marriage should operate under a certain set of principles.
"To me, there are a certain set of standards that every marriage should have in my eyes. Obviously, infidelity—things like this. There's like a list of those things I think that everyone has to have in order for it to work, or it never will," Erik explains.
According to Virginia, they shouldn't be using other couples' standards for marriage to define their own.
"I don't think we should compare our marriage to anyone else," Virginia says. "Yes, obviously cheating—you're not going to cheat in a marriage, you're not going to cheat in a loyal relationship, you're not going to cheat in anything if you're a good person. But really, I think outside of that, a marriage can be pretty much whatever two people want it to be."
Dr. Pepper has a good idea for how the pair can create their own marital standards to live by, which, of course, means they'll have another exercise to complete.
"Here's a thought for an exercise: Each of you write down what are your goal for this marriage. And then I want you to write down what behaviors you think will serve those goals. So thinking about what your marriage is—your marriage is as [in] the two of you—and what are the things that you're promising each other and talk about it," Dr. Pepper instructs.
Virginia and Erik have had plenty of ups and downs, squabbles and arguments throughout their marriage so far, but they both agree that despite all of the rocky moments, they've accomplished a lot together in their relationship in a short amount of time.
With Decision Day just around the corner and the moment in which Virginia and Erik and the other Season 12 couples decide whether to remain married or not, it seems appropriate that the pair are taking the extra time to really sit and talk about the way they want their marriage to flow going forward. But if they can't reach common ground on that, the couple's marriage could be doomed.
Married at First Sight airs on Lifetime on Wednesdays at 8 p.m. ET.