'Married at First Sight' Season 9 Star Amber Reveals Her First Reaction to Seeing Matt on Wedding Day
Married At First Sight star Amber Bowles was so taken with her new husband, Matt Gwynne, she didn't even notice their height difference. Amber stands at 5-foot-2, which makes her nearly two feet shorter than her 6-foot-11 partner.
Amber dished about her first impressions during a segment for Married at First Sight: Unfiltered. "I noticed his eyes and I noticed his smile. I didn't even think about it. I knew he was tall, but everyone looks tall to me. I'm used to being short, so height for me, after you are six foot, I'm just like, 'Oh yeah, you are tall,'" she said.
While Amber might not have noticed she barely reached his shoulders, Pastor Cal Roberson told Unfiltered host Jamie Otis joked Amber is used to looking up all the time. "She's like a Pez dispenser," he said.
Fans might have noticed Matt's height first, but it was his grin that got Amber's attention. "I liked his smile, like I could see his smile from way back. And I was like, 'This—okay, he's cute!'" she said.
On her wedding day Amber told her guests that she loved Matt's lips and she reiterated this sentiment on Unfiltered. "His lips were really soft and perfect. It wasn't sloppy and I didn't have to wipe my mouth. It was a really good kiss!" she said. "The way he was rubbing my hands and our kiss, it was really good. I really felt this vibe, and I didn't think I was going to have that!"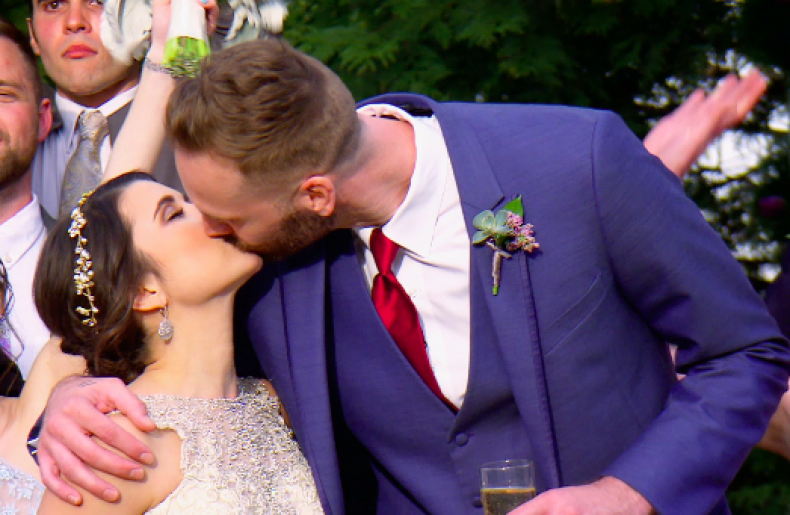 She was optimistic about their future—and it involves Matt potentially letting her win at basketball. "I would need a boost from him to dunk it. But I'm just seeing a lot of fun and a lot of adventure," she said. "I'm envisioning us cooking breakfast together, drinking coffee together, cuddling, just watching a lot of basketball."
Amber revealed she was afraid Matt seemed guarded on their wedding day. On our wedding day, he did seem kind of closed off and his walls were up, so from the start, I was a little worried about having a successful, lasting marriage with him," Amber told Reality TV World. "For me, I came into this with my walls down and my heart ready to invest in the other person, so I was hopeful my husband would do the same."
Even though Amber loves the way Matt looks, physical attraction wasn't the most important thing to Amber. "I requested a guy who wouldn't be bothered by my Tomboy ways," she said. "I asked the experts for someone who was expressive and communicative, and more than anything, someone who was kind. Looks were never anything that I was concerned about because attraction can grow, but being a good person is innate."
'Married at First Sight' Season 9 Star Amber Reveals Her First Reaction to Seeing Matt on Wedding Day | Culture