'Married at First Sight' Spoilers 2018: Did Tristan Thompson and Mia Bally Move to Houston?
Married at First Sight stars Mia Bally and Tristan Thompson continue to work on their communication skills, but the start of Tuesday's episode showed they still have a long way to go. In a sneak peek clip for Tuesday's episode, Bally threw her husband under the bus when they had lunch with her father, Indar, and sister, Deidre. As Thompson noted multiple times, it was supposed to be a "light lunch" but that changed when Bally told her family they were thinking about moving to Houston.
As soon as they sit down at the table, Bally tells her family they visited with Thompson's family in Houston. Then she drops the bomb that they're thinking about moving there. Deidre is shocked.
"I'm very frustrated because we had talked about having a light lunch. A light lunch to me is like her dad wanted to talk about basketball. Her sister just wanted to check in to see if she was happy," Thompson tells the Lifetime cameras in a confessional. "I don't think Mia should have brought up a potential move to Houston. I didn't want her to share that too soon. I don't see any way to really answer this."
When Bally's sister pushes the possible move at the lunch, Thompson tries to defend himself. "I own multiple tutoring club franchises," he says, "so I have two in Houston and one here in Dallas but Houston is where it's really big."
Newsweek subscription offers >
Deidre then asks if Thompson, "Did you think about this before you got married?"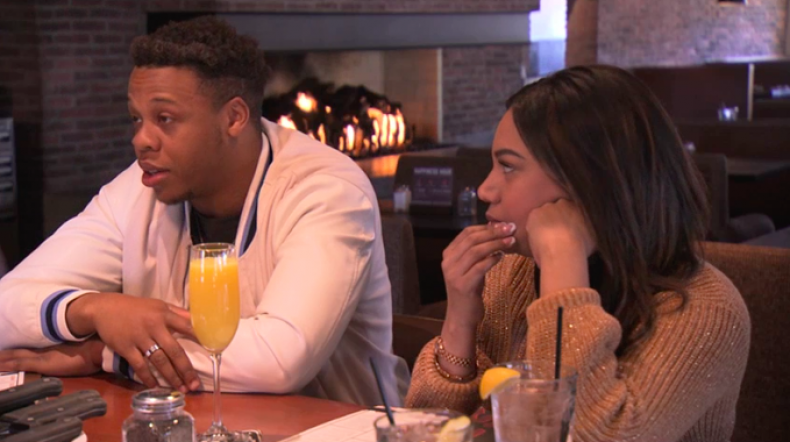 "Well, yes. So that's why I told Mia—I gave Mia the options where we can either go down there together," he responds. "I'll still have the Dallas one, so she can stay keep her condo and I'll get a one bedroom down there. We can kinda just go back and forth."
But Deidre is not impressed. "I think it's bulls***. You just got married. Why would you want to separate yourselves? I don't understand that if you really want it to work. It's not an option. It shouldn't be an option.
Newsweek subscription offers >
"I told Mia I'll leave it up to her," Thompson says, trying to defend himself. "Of course, I have a preference."
Deidre, however, accused Thompson of giving Bally an ultimatum. Finally, Bally steps in to end the discussion.
"It sounds like an interrogation instead of a conversation," she says. "This is the No. 1 thing I didn't want to happen. My family is not taking this as positively as I would have liked and I know that moving is a big decision but I'm not sure how I feel about it yet."
Married at First Sight airs on Lifetime Tuesdays at 9 p.m. ET.
'Married at First Sight' Spoilers 2018: Did Tristan Thompson and Mia Bally Move to Houston? | Culture