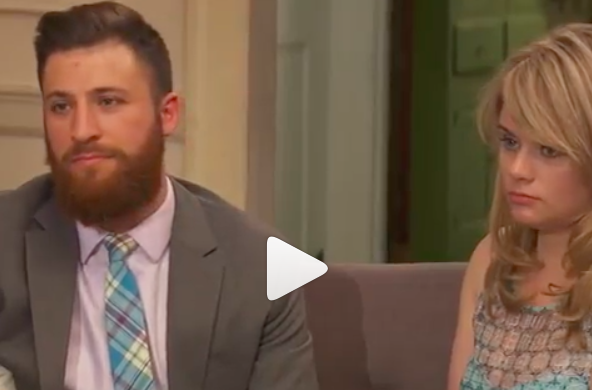 It's arguably the moment Married at First Sight fans Kate Sisk and Luke Cuccurullo have been waiting for all season. The couple will decide if they stay together or divorced following the experiment. Kate and Luke have famously had a tumultuous relationship on the show, with Luke saying he's not attracted to Kate and was "repulsed" by kissing her. Married at First Sight didn't leak if Kate and Luke decided to stay together, though she did post mini-spoilers on their Instagram account before the show aired.
"I don't ever want to be married twice," Luke says in the preview. Kate looks like she might be pulling off her wedding ring, although she could just be twirling it. When they're briefly shown sitting next to each other, Kate is frowning in the clip.
It would probably be safe to say that at least one couple decides not to stay together. Pastor Cal says while shaking his head, "I fight for marriages but not this time." Most fans have assumed that it was Kate and Luke who he was talking about, but other couples—like Will Guess and Jasmine McGriff—have also struggled this season. Jasmine was shown crying in one of the preview clips. Kristine Killingsworth also expressed uncertainty about marrying Keith Dewar. Arguably the only couple who might definitely stay married is AJ Vollmoeller and Stephanie Sersen, but she too expressed doubt.
Some assumed relationship expert Jessica Griffin was accusing Luke of gaslighting Kate after she posted an Instagram message about the term. "Gaslighting: When your partner tells you something is X when you know it is Y," she wrote March 7. "When someone attempts to gain power by psychologically manipulating you into questioning your own sanity. What do we do with gas lighters in a relationship? We break up with them."
She added: "Gaslighting is one tactic that may be present in toxic or unhealthy relationships. Emotionally abusive relationships often include some form of gaslighting."
Despite it looking to some like Luke and Kate have a toxic marriage, the expert explained she would never advocate for two people to stay in an unhealthy marriage—with or without cameras being around.
"People matter to me, more than anything else. Under no circumstances would I (or my dear colleagues for that matter) advocate for someone to stay in an unhealthy marriage, even for a TV show, and there have been a number of times in which my heart has broken for them," she said. "These are real marriages and even if we express our opinion that it's unhealthy, none of us can force a couple to separate, as frustrating as it is. Just like those who watch their friends go thru hard times in the real world, it's hard to watch people hurting. For those reaching out regarding trauma or abusive relationships, please know there is help. There is hope."
To find out if Kate and Luke are still together, don't miss Married at First Sight Tuesday at 9 p.m. ET on Lifetime.