'Married at First Sight' Star Keith Was 'Mind-Blown' When Iris Revealed She's a Virgin
Married at First Sight star Keith Manley was shocked to find out his wife, Iris Caldwell, never had sex before. It was a religious decision. Iris wanted to save her virginity for her husband, but Keith was "mind-blown" by the decision, he told host Jamie Otis on Unfiltered.
"I wouldn't have expected that [she'd be a virgin], ever. I was pretty mind-blown at that time," Keith said. "I think it does bring some concerns, I'm not going to lie, because I know that a big part of relationships and building relationships and maintaining a marriage does involve sex." He continued, "It involves being physical and intimacy and all things like that."
While Keith was humbled that Iris had saved her virginity for him, he still had some reservations. "This does kind of show a little bit of inexperience. And I'm just trying to figure out how to go through that because I know it's going to take a lot of patience," Keith explained.
But he was also able to see positives, like how now they didn't have to worry about sex clouding their judgment. "I think this is why my wife ended up being a virgin. I just feel like it was designed this way," Keith said. "And this is going to take a new approach for me—one that I've never taken before, which is just really, really, really getting to know somebody on a way deeper level before even considering the thought of, like, physical intimacy."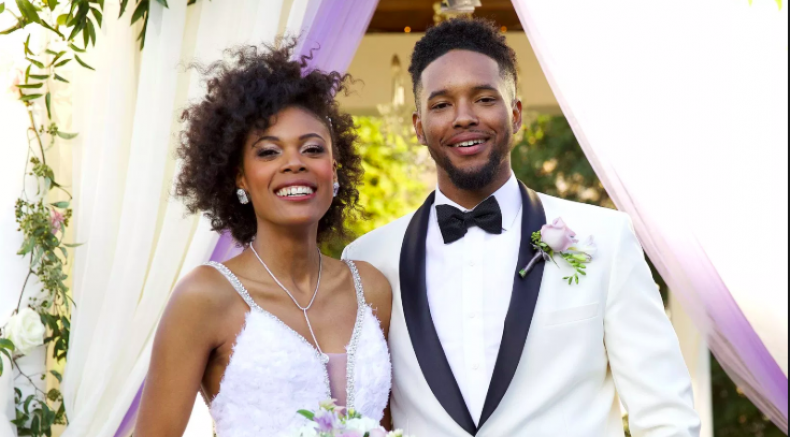 Keith experienced some cold feet before walking down the aisle. "This is crazy," he said before marrying Iris. "The anxiety has gone from like an 8 to an 11 now. I never thought this day would come. My future wife is at most 100 yards away. My mind is everywhere. I just have a lot of mixed emotions. I got everybody's blessings, but truthfully I don't know if I can go through with getting married at first sight."
Keith was thrilled when he saw her, telling the cameras: "My wife is perfect. She's very attractive. Already, there's immediate chemistry."
But his mother told him Iris was a virgin on their wedding day, which meant he had reservations from the beginning. "But Iris doesn't know that I know that she's a virgin but I don't want to bring it up until she's ready to talk about it because I don't really know what her expectations are when it comes to having sex for the first time," he previously said.
To find out what happens, don't miss the Kinetic Content-produced Married at First Sight Wednesday nights at 8:30 p.m. ET on Lifetime.
'Married at First Sight' Star Keith Was 'Mind-Blown' When Iris Revealed She's a Virgin | Culture