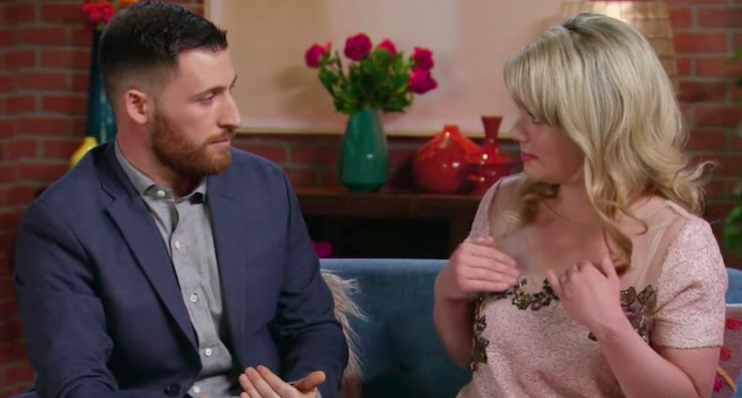 Married at First Sight star Kate Sisk might update fans now that Season 8 of the Lifetime reality show is over. Ultimately, Kate and Luke Cuccurullo decided to get divorced, but that also means she gets a new beginning. With her Instagram profile set to public, Kate told her 56,000 followers that she was considering something new to keep her fans updated.
Since Tuesdays will no longer contain Kate and Luke updates, Kate teased doing a show of her own via Instagram story. "Now that this #marriedatfirstsight journey is over, it seems y'all are interested in the next chapter. Thinking about doing some Tuesday IG stories to fill that void of no #mafs to watch Tuesday nights," she wrote Monday. "And to keep in touch and answer questions I've gotten - like where are my dresses from, boyfriend and life updates. What do you think?"
The post garnered more than 7,600 likes with hundreds of fans saying they would be interested to know what's happening with Kate.
In a post from Friday, Kate thanked all of her fans for sticking with her through the experiment. "I have received an overwhelming amount of support and love from everyone who watched my journey on #marriedatfirstsight#mafs . It was a difficult and painful one, but your messages really helped me in hard times. Thank you for sharing your stories and advice from similar experiences," she wrote. "It made me feel like I wasn't going through this alone. I am trying to keep in touch with everyone so I finally got a Twitter: kate_sisk (I know I'm late to the game haha)!"
Kate and Luke arguably had one of the worst relationships in the show's history. From the moment Luke laid eyes on Kate at their wedding, he looked disappointed. He later told her he wasn't attracted to her, was repulsed after he kissed her and felt "dead inside." Despite all this, Kate still wanted to try to make the marriage work, with Luke giving her glimpses of hope by telling her he was attracted to things that she did and cared about her.
Luke has not posted about Kate since making his Instagram page public.
The last time fans saw Kate and Luke, she questioned his sexuality, though he denied being gay. Kate brought up his Facebook page, which said he was interested in men and women. Luke argued it was joke a "funny" joke between him and his friends.
"I don't believe it," she said. "You have a lot of friends that are gay and I don't understand how it could be funny for you to put [that] on your Facebook."