'Married to Medicine' Season 6 Will Continue to Be a 'Roller Coaster Ride' of Drama, Mariah Huq Says
Married to Medicine Season 6 just started a few weeks ago on Bravo, but already the show is already off to a dramatic start. According to show star Mariah Huq, things are only going to get more chaotic for the cast as the season continues.
Huq, who is also a producer for the show, is back as a full-time cast member after stepping down to a guest role following Married to Medicine Season 2. Despite her lengthy absence, the journalist-turned-reality star was quick to bring the heat when she fully reunited with the cast during the Season 6 premiere episode.
During an interview with Newsweek, Huq teased the friction among the cast won't simmer down anytime soon. Although she did note reconciliation of some sort was on the way for a few of the ladies currently butting heads on the Bravo reality show.
Read on for all the spoilers Huq dropped about Married to Medicine Season 6 below.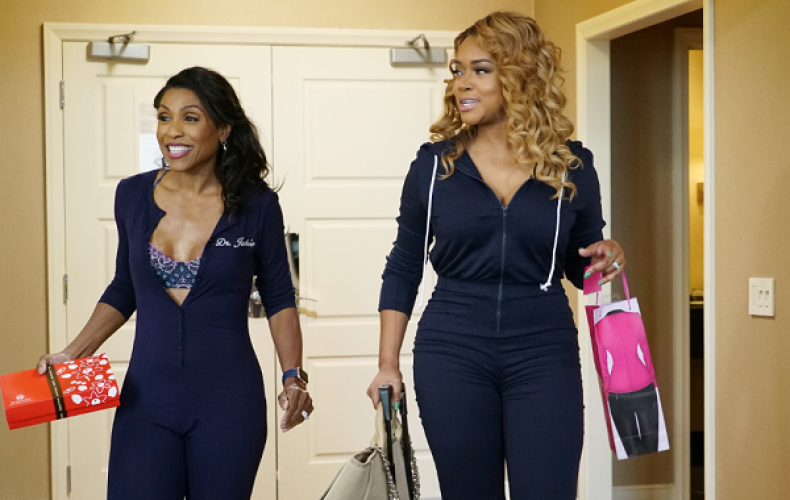 What brought you back full time?
Ultimately I always care about what the audience thinks. As a producer and as a cast member I want us to have a successful show. I took a step back to deal with a lot of things having to do with my personal life, but the audience gave me so much support. It didn't feel like I was really gone. The supporters made me come back.
Were you expecting such a strong reaction over your departure from the cast?
I wasn't. I was pleasantly surprised. It truly is a blessing to know that people support you and they can relate to you and want to see more of me and my family. So I was truly, truly grateful. I'm humbled and grateful at all the support.
What was the most exciting aspect of returning?
The most exciting aspect was rekindling relationships with Toya [Bush Harris] and Simone [Whitmore] and just being back with the ladies. It was exciting because I missed some of that. Even though I feel like I was still around s[during previous seasons], it felt very genuine to be back.
So many of the women faced marital troubles during Season 5 and a lot of it is spilling over quite intensely on Season 6. It seems like you have the happiest relationship with your husband Aydin Huq on the show. How do you two manage to keep your love so strong?
To be honest, it's something that has to do with our upbringing. Our families, our foundations—that's why Aydin and I married. Family has always been the be-all-end-all and the most important thing for us outside of God. We maintain [our relationship] by prioritizing, keeping each other first, keeping our children and our family first. We understand, yes, that we enjoy being on the show. We enjoy working in the ER, but ultimately we have to be each other's first priority. So I think prioritizing and keeping the most important thing first, which is us, is what keeps us together.
Is there anything special that you guys do to make time for each other?
We actually—no matter what—try to have a date, not every single week but maybe every 10 days. We go out and have a date during the day when the kids are at school, and we take a lot of honeymoons. In a few days, we're leaving [Atlanta] for St. Lucia. We just got back from Jamaica. In October we're doing Greece. We do truly travel the world together. Every other trip we take our kids with us. It gives us a different perspective on life and on love. Tomorrow's not promised, so we try to spend as much time with one another as possible.
Do you empathize with what some of your castmates are going through in their marriages?
I do from a few perspectives. First, as a mother and a wife, I empathize. Also as a cast member and friend, I empathize, and lastly as a producer. One of the most special things about this show is that it's educated, it's family oriented. Everyone on the cast is married, and that truly has been one of the things that keep us all together—the spouses. The dynamic will change dramatically if couples start to break up. I would hate to see that. It's so important to see happy minority families on TV. We don't see enough of it, and that's something that makes Married to Medicine special.
The upcoming episode sneak peek teased Quad will finally come around to the cast since finding out about her husband's hotel romp with another woman. Is there any insight you can share on the cast's first encounter with her of the season?
I hate what Quad and Greg are going through. I think she has to realize what she's going through, a few of us have faced before whether it's infidelity or just problems in the marriage and facing divorce. I truly wish that she would have allowed the group to be supportive because we all reached out and tried to lend a helping hand to her. We tried to be a shoulder for her to cry on, but you can only do what a person allows you to do.
Will fans see any kind of reconciliations between feuding cast members this season?
Absolutely. I think you'll see it amongst a few people in the group. I don't know if it's complete reconciliation or just an ink-link, but I do know that you will see things start to shift in a positive direction.
Does that include you and Dr. Heavenly (Kimes)?
Possibly. I think we put our best foot forward, I truly do. Now how genuine it is from her? I don't know, but it was genuine from me.
People seem to enjoy watching you two fight because you both bring so much attitude and spice to the show, but it would be nice to see you ladies come together for the greater good.
In a perfect world that would happen. But in a world with Heavenly in it, I don't know if that's possible. She's going to always be Heavenly even when I try to be nice. I feel like it just always explodes and backfires.
Aside from drama with Heavenly, it seems like you'll be facing some motherly drama and having that big dating talk with your daughter this season. Why was it important for you to have that conversation with her now?
I didn't get to date until I was in the 11th grade. She's in high school. She's small, but she's in high school and it's a different generation. I'd rather her be prepared and be able to arm her with tools she needs and as much information as possible, than not to deal with it and act like she doesn't talk to boys and won't ever talk to boys. I think things change when kids get to high school. In my hometown, I knew girls that were getting pregnant in the ninth grade, so I would be remised if I didn't address that. It's awkward, but it's needed.
What was the most challenging aspect of the season as a producer and a cast member?
Production was actually great for me this season. I don't have any complaints about production. I felt like everyone was very accommodating, [Bravo] was very open to me and my story and things [the cast] really wanted on the show. I guess the biggest challenge for me was making sure I was vocal and didn't allow people I knew who didn't want me to return to overshadow me or over-talk me. I knew my return would ruffle feathers. There are a couple people who, I think, still don't want me around and will find anything [to bring against me]. That's always a challenge, but it's one that I'm willing to take on each and every time.
Was reality TV always in the cards for you?
I never thought I would do reality TV. I was a journalist by trade. I started out as a public affairs news anchor and news producer for the NBC affiliate in my hometown. If somebody would have told me then I was going to do reality TV I probably would have laughed. I was completely the opposite of reality TV. It's been a blessing though. It's my baby so I'm happy to see how it's growing and how many lives it's changed and how many people watch it.
If you could go back and do anything differently on the show, would you?
I don't believe in having regrets, but maybe if I could do it all over again I would walk away Season 1 and not get into a physical fight with Toya. I would have just turned the other cheek.
Describe the rest of Season 6 in three words.
If I had to describe it, I'd say, "Rollercoaster ride."
Married to Medicine airs on Bravo on Sunday nights at 8 p.m. ET.