Marriott Slammed for Hosting CBP Conference After Vowing Not to Help U.S. Immigration Officials: 'What's Wrong With You?'
Marriott is facing fresh scrutiny after it came to light that the hotel giant plans to host a U.S. Customs and Border Protection (CBP) conference this week, just days after it vowed not to collaborate with U.S. immigration officials to aid the detention of migrants in its establishments.
Condemning the Marriott's decision to host CBP's annual trade symposium at the Marriot Marquis hotel in Chicago this Wednesday and Thursday, political action group Mijente has launched a petition calling on Marriott to cancel the two-day event.
"On July 11, 2019, Marriott International published a statement declaring that they would not allow Immigration and Customs Enforcement (ICE) to use their hotels as detention facilities for immigrants," Mijente said in its petition, which has so far garnered more than 1,500 signatures. "The statement came after ICE announced it planned to use hotels in place of detention centers to address overcrowding in their facilities."
Quoting Marriott's own statement, in which the hotel giant said that its "hotels are not configured to be detention facilities, but to be open to guests and community members as well," Mijente said that by hosting the event Marriot was effectively "showing that they, in fact, are not an open and safe space for guests and community members."
Instead, the action group said, Marriott is "actively enabling CBP and its profiteer company collaborators to continue to build the deportation machine which is used by both CBP and ICE to terrorize immigrant communities."
"By hosting a conference full of CBP officials and collaborators, Marriott is participating in creating an unsafe environment for Chicago residents, and it needs to be known that CBP, ICE, & DHS are not welcome in our city," Mijente said, asking petitioners to call the Marriott Marquis to protest against the hotel giant's decision to host the event.
"Refusing to house detainees is not enough if you are still supporting and accepting money from the organization detaining them," one signatory, identified as Benjamin H. wrote.
"The world is watching you too," another, identified as Aine W., said. "No collaboration with CBP!"
Sharing the petition on Twitter, the Never Again Action group, an organization comprised of Jewish citizens "taking direct action against ICE," said "ICE and CBP can't round up our neighbors, steal kids from their parents, and run concentration camps on their own. There is a whole network of companies who are collaborating with them, and we can't allow it to continue."
"What's wrong with you?" the group asked, tagging Marriott in the tweet.
In a statement to Newsweek, Marriott spokesperson Connie Kim confirmed that the Marriott Marquis hotel in Chicago would be hosting CBP's annual trade symposium on Wednesday and Thursday.
"Government employees are expected to be in attendance at this event and a significant number of private sector attendees are also registered to participate," Kim said.
The Marriott spokesperson sought to make clear that the hotel giant's decision to host the event was not an endorsement of CBP or the Trump administration's policies.
"In accordance with the company's long-standing approach, allowing a group to use Marriott's facilities in no way suggests the company endorses the group's views. Marriott International has made it clear that it has a 'welcome all' policy when it comes to customers and groups that want to host events at hotels that operate under its brands," she said.
Noting the company's commitment to refusing to accommodate any request from U.S. government officials seeking to house detained migrants, Kim said: "What we said last week was that our hotels are not configured to be detention facilities, but to be open to guests and community members as well."
"While we have no particular insight into whether the U.S. government is considering the use of hotels to aid in the situation at the border, Marriott has made the decision to decline any requests to use our hotels as detention facilities," she expanded.
The policy announced earlier this month, she said, "only addresses requests by the government to detain individuals in Marriott hotels."
"We are a hospitality company that provides public accommodation. In terms of how we would treat CBP or other government employees who seek to stay or hold events at our hotels, we have said that we would accommodate them like we would any other guest," Kim added.
The Marriott spokesperson also noted that as "safety and security is always a top priority for Marriott," the company would be "coordinating appropriate security measures with the city as it would for any event of this nature."
Asked by Newsweek how much CBP is paying for the event space, Kim said that is not information the company can share.
CBP spokesperson Kelly Cahalan said the agency was working to provide that information.
In the meantime, Cahalan said that the agency's mission "is not just about securing the border."
"CBP remains the second-largest source of revenue in the federal government and is committed to its dual role of trade facilitation and protection of revenue," Cahalan said. "CBP is responsible for enforcing nearly 500 U.S. trade laws and regulations on behalf of 47 federal agencies, facilitating compliant trade, collecting revenue, and protecting the U.S. economy and consumers from harmful imports and unfair trade practices."
Noting that CBP processed $2.5 trillion in imports and collected approximately $52 billion in duties, taxes, and other fees in fiscal year 2018 alone, Cahalan said that "the annual Trade Symposium is a way to bring together the international trade industry and government to ensure we are meeting the needs of trade while being able to effectively enforce trade laws and regulations."
"Most of the people who attend the symposium are importers and private sector members of the international trade community who help keep not only our economy, but the world's economy moving," the spokesperson said.
"CBP and other government agencies with impact on international trade, such as the Department of Commerce, are available for trade partners to discuss new trends and concerns in the industry," Cahalan added.
Indeed, CBP's 2019 Trade Symposium will be attended by a number of high-ranking officials, including acting DHS secretary Kevin McAleenan and acting CBP Commissioner Mark Morgan, who is expected to deliver opening remarks at the event.
The event will also include an opening discussion on the "lack of opportunity in the Northern Triangle countries of Central America," where the Trump administration has slashed aid amid a surge in asylum seekers arriving at the U.S. border from the region.
The backlash to the Marriott's decision to allow CBP to hold its trade symposium at its Chicago hotel comes amid growing scrutiny around the many companies that have and continue to hold contracts with ICE and CBP, despite their role in enforcing the Trump administration's hardline immigration policies.
Companies including Amazon, Microsoft, Palantir Technologies, Wayfair, Deloitte, Booz Allen Hamilton and others have all come under fire for their contracts with agencies within the DHS.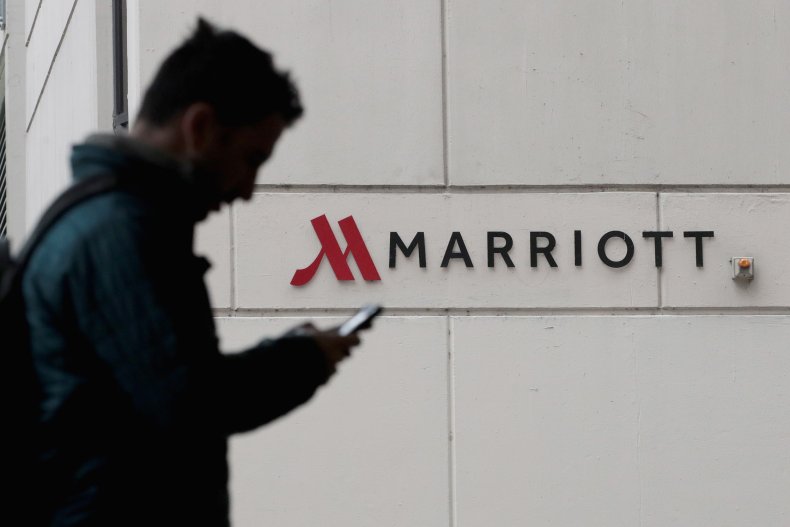 This article has been updated with a statement from CBP.