'Marry Me' Creators on How the 'Meta' Movie Draws From J. Lo's Real Life
Jennifer Lopez plays an international pop star who's been unlucky in love in the new movie Marry Me, and the creators of the movie are thankful she brought her own life experiences to the role.
Marry Me, a new romantic comedy coming to theaters and Peacock on Friday, February 11, sees pop star Kat Valdez, jilted at a very public altar, agree to marry a random man holding a "Marry Me" sign at one of her concerts.
J. Lo is the world-renowned musician while Owen Wilson plays the unassuming Charlie Gilbert, a divorced dad and middle school teacher who's dragged into the world of celebrity and social media.
According to Marry Me's director Kat Coiro and producer Elaine Goldsmith-Thomas, J. Lo displayed a great deal of "generosity" by implementing so much of her real life into the "meta" role.
J. Lo's character Kat is opened up to a world of criticism from social media and from the late night talk shows after her public humiliation. The experience Kat goes through, is apparently something J. Lo is all too familiar with.
Goldsmith-Thomas told Newsweek: "It was hard for her. She's so good at hiding how she feels.
"She added the line when somebody asked her 'Don't you get hurt when people write this about you?' And she said, 'Yeah, you do,'" Goldsmith-Thomas recalled. For the movie, for perhaps the first time, J. Lo had to reveal the extent of the pain she feels when jokes are publicly made at her expense.
"I think it was uniquely difficult for her because she's so good at hiding what it's like when people criticize you, and what it's like when you're the national joke on national television. She had to reveal that in a way that was very meta, and very close to her," Goldsmith-Thomas said.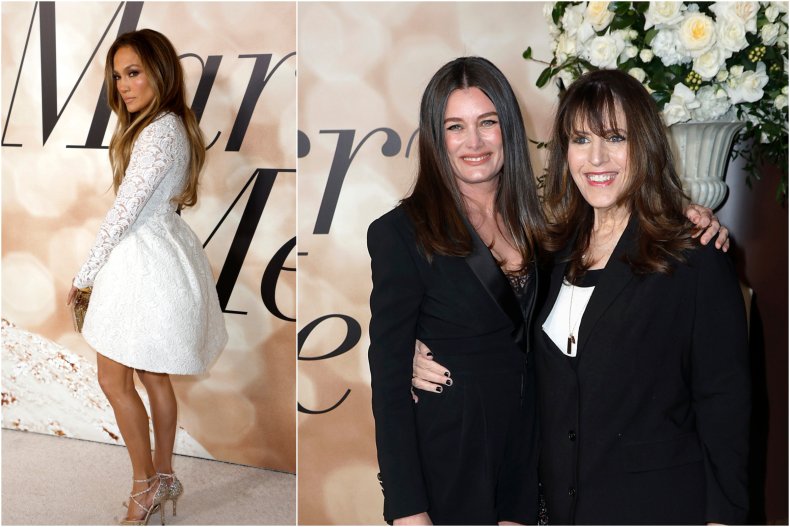 Since there were so many parallels between Lopez and the character Valdez, the director Coiro trusted her actress with a modicum of creative control. "Obviously, there are differences between Kat Valdez and Jennifer Lopez, but there are of course intersectionalities and commonalities," Coiro told Newsweek.
"I always liked to let her lead. Like, how far, how raw, how vulnerable, how much is she going to give us and I was shocked by her generosity of experience, and what she was willing to share."
Coiro also importantly noted that there are still big differences between fact and fiction in Marry Me. "She's not playing herself. She's drawing on her life experience to build a character."
Playing a character at the other end of the fame spectrum is Owen Wilson, who plays the charming but mild-mannered Charlie. "He was perfect," remarked Goldsmith-Thomas.
Coiro said, "When you have a force like Jennifer Lopez, whoever is playing opposite her has to also be a force and have a quiet confidence. You have to really feel his presence in the room.
"We wanted someone who wasn't on social media, who lived this small life, who makes lunch for his daughter, but also feels like an attractive, confident man who you want the character to end up with." the Marry Me director said.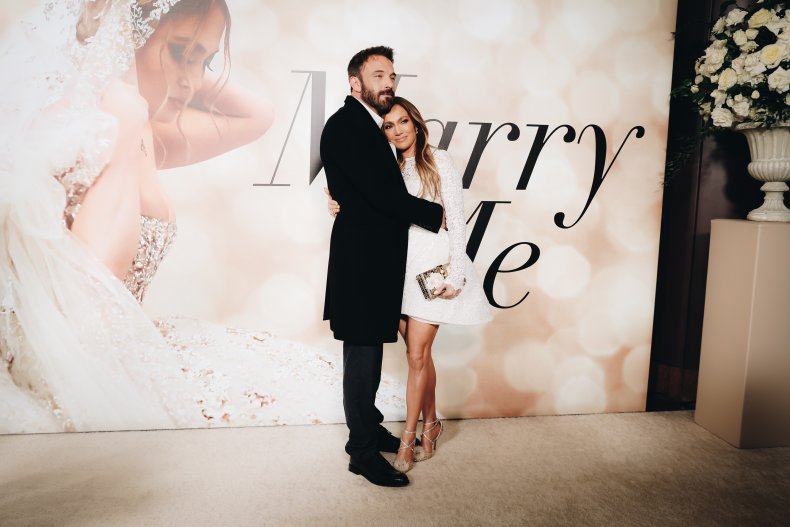 The soundtrack to Marry Me is an important element, with J. Lo and co-star Maluma writing many of the original songs that appear on the soundtrack. Both Coiro and Goldsmith-Thomas were astounded by the songwriting abilities of both actors.
Maluma's track "Segundo" was merely suggested in a scene before he wrote the whole track, while J. Lo in particular blew Coiro away with her abilities. "When I first met Jennifer, there was this moment when she was singing along to a song on Bluetooth. Suddenly the Bluetooth drops out and she keeps singing. Chills went up my spine and I got a tear in my eye.
"I said 'Oh my God, if we can capture this character, just raw and playing without any production value in a room, we will have succeeded,'" Coiro said.
Marry Me is a movie with unique origins, in that it's a romantic comedy with comic book origins. The web comic for Marry Me was written by Bobby Crosby but Goldsmith-Thomas and Lopez attached themselves to the story to produce and develop it.
"By the time I came onto the project, although the original idea had been based on a comic, it had really taken on a life of its own," Coiro continued. "I think what's cool coming from the graphic novel, is this premise that is so wild and out there, and that's what you guys [Goldsmith-Thomas and Lopez] took from it, but we really grounded it."
Goldsmith-Thomas credits Coiro with making it a more realistic story for the big screen. "She [Coiro] said, 'Okay, so let's make this real.' She wanted to understand the world of celebrity. She understood viscerally the world of the every man.
"So I brought her to Vegas," said Goldsmith-Thomas, turning to Coiro. "Remember, it was for one of Jen's shows? And Jen welcomed her in. Kat was sat on her bed as she was icing her knees because she had done a rehearsal, and there was wardrobe and hair extensions on racks. I watched Kat watch her. She was just sort of taking it all in."
Alongside Lopez, Wilson and Maluma, Marry Me also features a talented cast of supporting characters including John Bradley (Game of Thrones), Sarah Silverman and Jimmy Fallon even plays an extended role as himself.
Marry Me is available to watch in movie theaters and on the streaming service Peacock from Friday, February 11, 2022.