Mars NASA Lander: When, How to Watch InSight Touchdown Live Online, Livestream and Events in U.S. Cities
On November 26, NASA's Mars Interior Exploration using Seismic Investigations, Geodesy and Heat Transport (InSight) will arrive at the red planet, having spent over six months traveling through space.
InSight is the first Mars landing made by the space agency since Curiosity touched down in 2012. The arrival marks the start of a two-year mission to study the heart of Mars—it will peer into the interior of the planet to provide scientists with a more detailed understanding of its crust, mantle and core. This should help answer questions about the formation of rocky planets in the inner solar system.
InSight will land on Mars at approximately 3 P.M. EST. To mark the occasion, NASA will be livestreaming the event on its dedicated TV channel, through its website and on its social media platforms. You can access NASA Television here or watch the broadcast below.
As well as being able to watch online, NASA will also be hosting events across the country. You can search for events taking place near your home here. Major events will be taking place at the locations listed below:
California Science Center, California
The Los Angeles Central Library, California
Museum of Flight, Washington
Denver Museum of Nature and Science, Colorado
Adler Planetarium, Illinois
Smithsonian: National Air and Space Museum Steven F. Udvar-Hazy Center, Virginia
Times Square, New York
American Museum of Natural History, New York
U.S. Space and Rocket Center, Huntsville, Alabama
Coverage of the landing will begin at 2 P.M. EST with live landing commentary and a feed from mission control at NASA's Jet Propulsion Laboratory. At 3 P.M. EST the spacecraft should touch down on Mars. This will be followed by a post-landing news conference, which is scheduled to take place at about 5 P.M. EST. Timings are subject to change.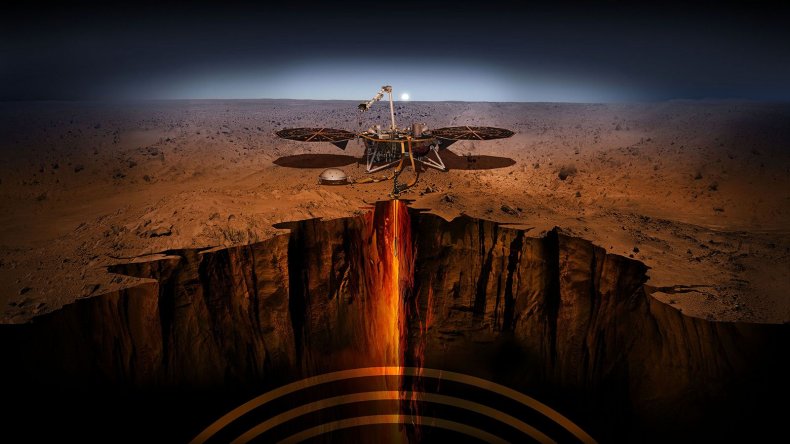 During the landing, signals from InSight will take time to travel the 91 million miles back to Earth. This means there will be some delay between what is happening on the Red Planet and what we see on Earth.
As InSight descends into the Martian atmosphere, it will send radio signals to give an indication of its position. It will deploy a parachute to soften its landing. The spacecraft will then send out two signals—one to say it has landed then another to confirm it was a successful touchdown.
The site chosen for InSight is called Elysium Planitia. This is an area with little in the way of geological features—there are no volcanoes, canyons or mountains, as previous rovers have explored.
"If you were a Martian coming to explore Earth's interior like we are exploring Mars's interior, it wouldn't matter if you put down in the middle of Kansas or the beaches of Oahu," Bruce Banerdt, from NASA's Jet Propulsion Laboratory, said in a statement. "While I'm looking forward to those first images from the surface, I am even more eager to see the first data sets revealing what is happening deep below our landing pads. The beauty of this mission is happening below the surface. Elysium Planitia is perfect."