Marsha P. Johnson is celebrated in today's Google Doodle, marking the last day of Pride Month. As an LGBTQ+ rights activist, performer, transgender woman, and drag queen, Marsha P. Johnson pioneered the LGBTQ+ rights movement in the U.S. and was a key figure in the Stonewall uprising of 1969.
Born on August 24, 1945, in New Jersey, Marsha P. Johnson graduated high school in 1963 and then moved to Greenwich Village in New York City. She legally changed her name to Marsha P. Johnson, with the P. allegedly standing for "Pay It No Mind"—her response to those who questioned her gender.
Johnson, her friend Sylvia Rivera and others resisted arrest when the police raided the Stonewall Inn gay bar on June 28, 1969. They then led a series of uprisings to protest the raid and the first Gay Pride event took place the following year.
Johnson and Rivera then founded Street Transvestite Action Revolutionaries (STAR),—now believed to be the first organization to be led by a trans woman of color—which supported young transgender people and was the first organization to open a shelter for LGBTQ+ people in North America.
Johnson died aged 46 but was not widely covered by the media. Her body was found in a river and deemed a suicide by police, but her friends and other activists did not believe the ruling.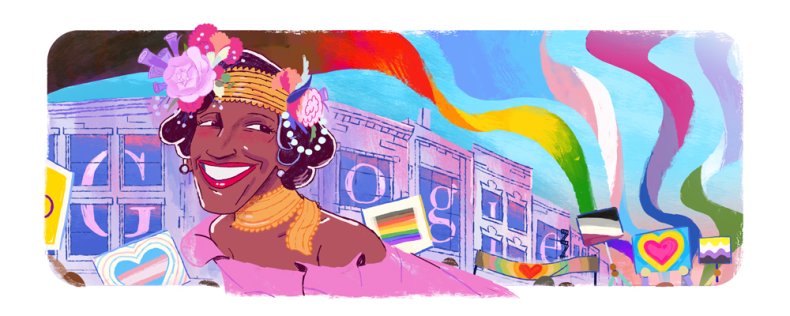 In 2019, New York City announced that is would erect statues of Johnson and Rivera in Greenwich Village. This will be one of the world's first monuments in honor of transgender people.
Today's Google Doodle was created in partnership with the Marsha P. Johnson Institute, the founder and Executive Director of which, Elle Hearns, told Google: "The thought of Marsha P. Johnson and her life still being available to draw upon today says so much about the impact of her love and her work.
"Her vision and brilliance has been a guide for me as I've envisioned the type of organization that our movement needs and that I wanted to build. For so long, Marsha's history has only been heralded by the LGBTQ community.
"Today's Doodle will help teach her story to many more around the world, and about the work that has been historically ignored and often purposely left out of history books. Today's Doodle of Marsha reminds people that Black and LGBTQ+ history is bigger than just a month; it is something to be honored every single day."
Rob Gilliam, who illustrated the Marsha P. Johnson Google Doodle, said: "Marsha knew that the true key to liberation was intersectionality. The original pride movement pulled in participants from across the lines of class and race and sexuality and gender expression and united an entire community.
"Recent times have been extremely divisive, and it's far too easy to fixate on what separates us as opposed to celebrating the commonalities we share. I think we could all be a little more like Marsha in that respect.
"Everyone has their own unique, powerful, vibrant identity—and when we embrace these differences, we take a step towards building stronger communities."